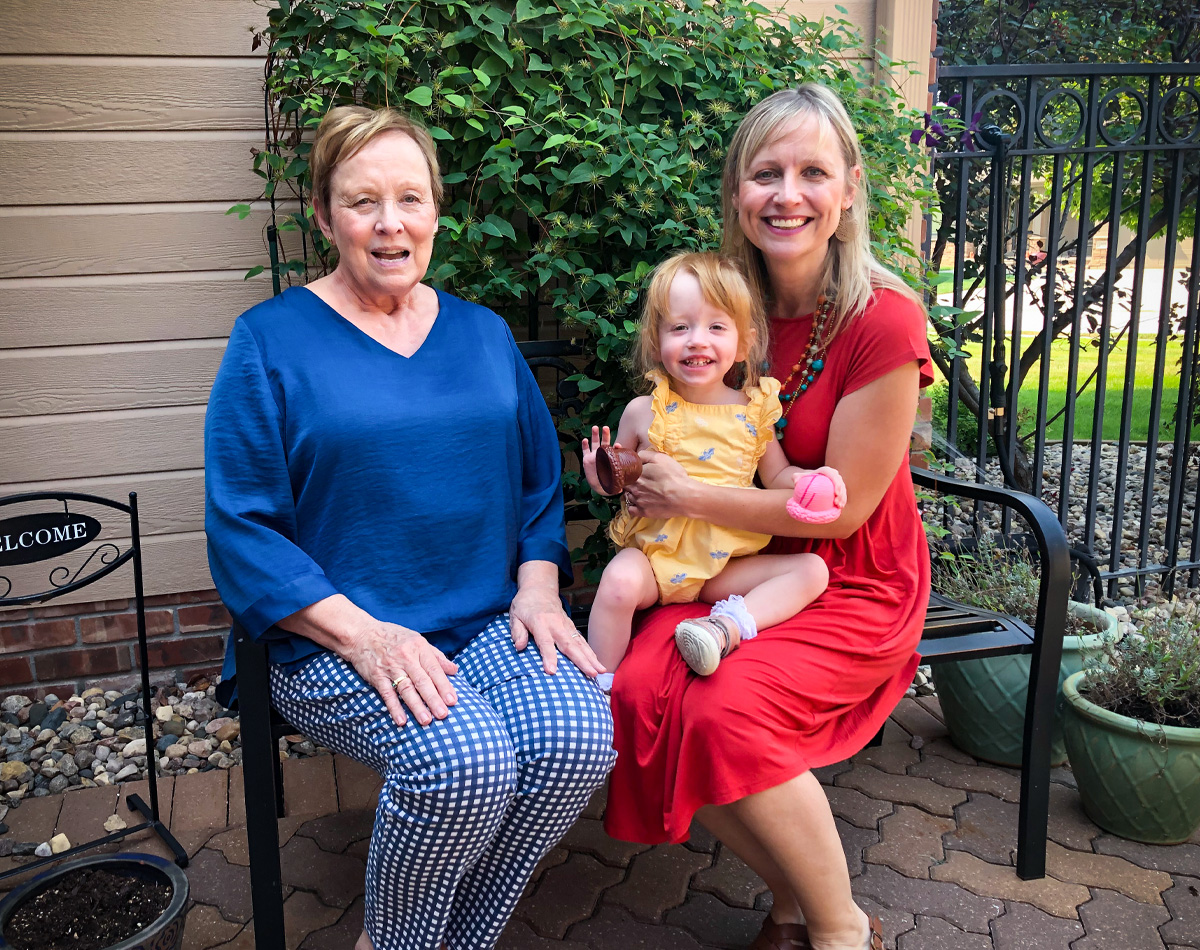 Kerissa Robison has been attending Citylight since 2013. Over a year ago, she became a stay-at-home mom. Kerissa has recognized the importance of filling her time with good things. She has also realized that one of the greatest things to fill her time with is studying the Bible. Last fall, she and her mother decided to study the Bible together, so they registered for the morning women's Bible study since she would need child care. She and her husband, Wayne, have two-year-old daughter, Annie. Early on in the study, Kerissa began to see that this Bible study wasn't just for her and her mother. This study was also for her daughter. Back in childcare, an organized curriculum was planned every week for the children. The kids were not just given a safe and loving place while mothers were in Bible study, but they were also taught about a Savior...Jesus. Kerissa, her mom and now also her daughter, Annie, were filling their time with a good thing together.
"This Bible study was not only precious because my mom and I were doing it together," Kerissa shared, "but my daughter too. Annie picked up on the fact that we all go to Bible study together on Wednesday mornings. She went to hers and my mom and I went to ours. Annie thought that was so special."
Seeing this unfold brought to mind to Kerissa God's truth from the book of Psalm.
"In Psalm 90 it says that for every generation the Lord has been our dwelling place, our home," Kerissa explained. "I am also reminded of Psalm 100 where it says the Lord is good and his steadfast love endures forever and his faithfulness to all generations. I think that it is so special to see the faithfulness of my parents and how they set an example to my siblings and me of what it looks like to love and walk with the Lord daily. Now, as a mom, I want to pass that on to my daughter."
When Annie was born, Kerissa and Wayne's fervent prayer for Annie is that she comes to know the Lord and at an early age. That she loves and serves the Lord with all of her heart. Kerissa described their prayer from Annie's dedication:
"We dedicated Annie at Citylight with Psalm 23:6. It says, "Surely goodness and mercy will follow me all the days of my life and I shall dwell in the house of the Lord forever." We see that Annie loves to go to the house of the Lord and that is an answer to prayer already. That is a blessing from the Lord."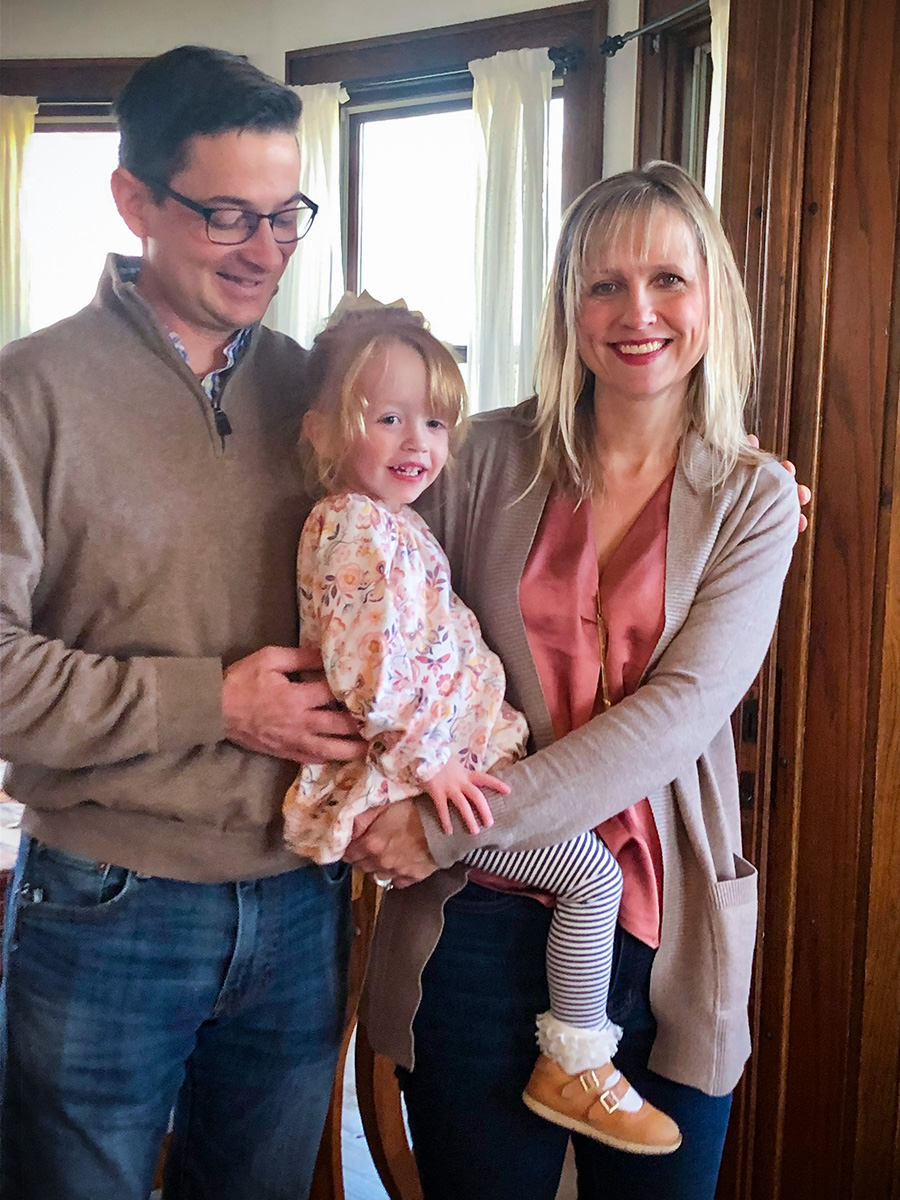 Leading your child to the Lord can feel overwhelming at times with where to start and how to do it. Kerissa encourages other parents to just start. That is key along with being open to new things. She and Wayne have found that there is more than one way to do things.
"I think with anything you have to figure what works for your child and family," Kerissa said with much empathy and understanding. "I would also say don't be afraid to try things. Even for your own faith. If you are feeling intimidated about joining a Bible study, to be honest there were days I didn't get the study completed and I still went and I still benefited. The discussion at the table and the community were so beneficial."
Participating in the Bible study confirmed for Kerissa the fact it's always beneficial to read the Bible, but when you pause or reflect or participate in a study, there's more context and perspective. It becomes richer. Kerissa explained,
"There were a portions of 1 Samuel where in the past I glazed over instead of realizing what was truly going on. Also, there were different times in the lecture where we looked at the times when David didn't pray about a particular decision and the consequences of not praying. Recently an opportunity was presented to me and after talking to my husband and my mom about a decision, the thought came back to me that I needed to also pray about this. I remembered how David got in trouble when he didn't."
The women's Bible study continues this month and Kerissa, her mom and Annie are all signed up.
"Annie has talked about Bible study," Kerissa shared with a smile. "I've explained to Annie that we are taking a break and then in January we are going to Bible study again. She sees pictures that she has colored and says, "That was at Bible study." She made a bracelet and will tell me, "I made that at Bible study." She's very content that it will start again."
Looking ahead, Kerissa is also content that Bible study is starting again.
"I'm so grateful for starting this Bible study and it's something that is just so valuable. I think if anyone has an opportunity to participate or has any interest in trying to, do so. This study is enriched by the people who participate. If there is a way you can make it work, it would be a real benefit to everyone personally but also collectively as a church. Studying the Bible together strengthens the church."
Register today for the Tuesday evening or Wednesday morning women's Bible study. Bible studies start January 17th. If you have a little one, be sure to register them for the Wednesday morning childcare. Annie will be there welcoming kids to their own Bible study.
Women's Evening Bible Study
Tuesdays, 1.17 - 3.28 | 7 - 8:30 PM | Midtown
Register at https://www.citylightomaha.org/wbs-pm
Women's Morning Bible Study
Wednesdays, 1.18 - 3.29 | 9:30 - 11 AM | West
Register at https://www.citylightomaha.org/wbs-am