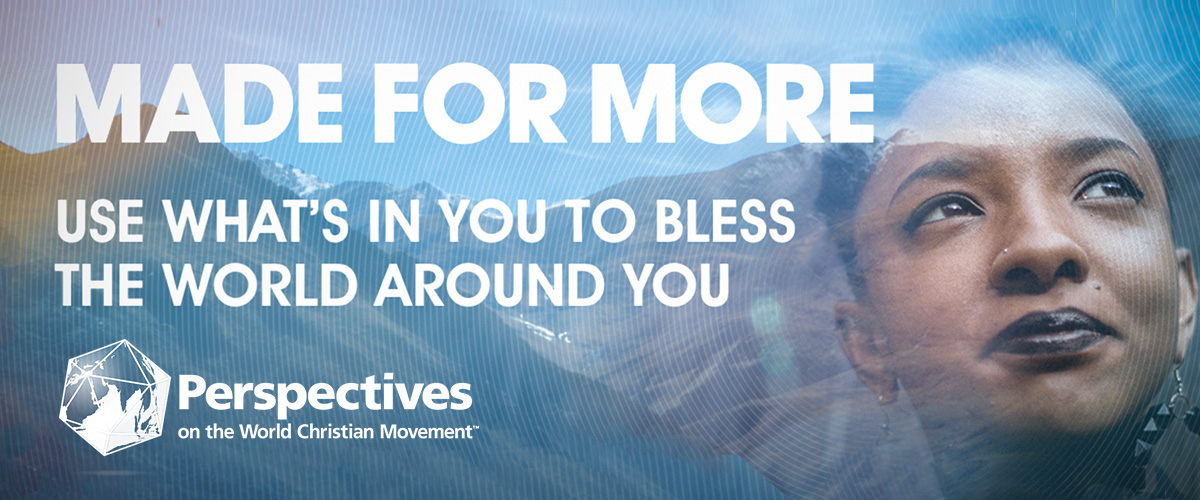 What's Your Perspective?
God is all about His Glory! He created us for His glory, blesses us for His glory, and saves us for His glory. We respond by giving glory to God through our lives, praising Him, worshipping Him, and sharing the good news of the Gospel with those He brings into our lives. What we know about God's heart forms our views about life, people, the world, Jesus, the Bible, and ourselves. Gaining deeper understanding of God's ultimate purpose in the world helps us to learn how to invest our lives in a fuller way so that He is glorified.
We are excited to host Perspectives on the World Christian Movement course.
What is Perspectives?
Perspectives is a fifteen-week course designed around four vantage points or "perspectives" — Biblical, Historical, Cultural and Strategic. Each one highlights a different aspect of God's global purpose.

Perspectives is for anyone who wants to learn how to strategically invest their lives in seeing God glorified.

Perspectives will give you fresh knowledge and understanding of God's purposes and why they are relevant to your life.

Perspectives will give you a new vision on how to live a life of purpose.

Perspectives is for anyone who wants to gain insight and direction that will help them impact their generation.

Perspectives is an effort to help the body of Christ to see the world and their place in it like Jesus does.

Perspectives is a course that gives hope. The certainty of every tribe and tongue and nation at the throne of God gives us hope that we are a part of something that is a going to happen!
Who should take Perspectives?
Everyone! Check out this Video:
Omaha class details such as location, dates, times, instructor info, cost and available discounts can be found on the Omaha Perspectives Class page. You can learn more about the course by visiting the Perspectives Website, Facebook page, or by contacting Robin Laney at robin@citylightomaha.org.