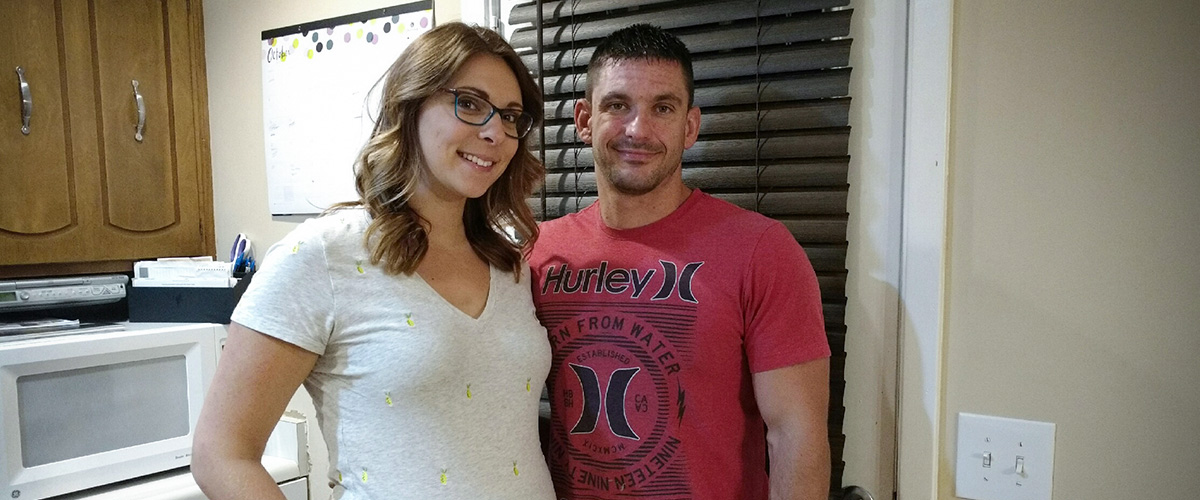 There wasn't much grace in Robbie's life. Instead he was shown dysfunction, addiction, insecurity, fights, struggle, brokenness, emptiness, and prison. This was his normal.
"My life was chaos," said Robbie.
Robbie grew up in a dysfunctional house. His Father was an alcoholic and his Mom a user. His parents divorced when he was 14. At 15 till the age of 27 he was in and out of jail for drugs. A total of seven years locked up. Hopelessness and insecurity seemed to be his future.
In the middle of all this Robbie met Alex. Alex's background was different. She was raised in a religious home but instead chose to ignore grace that was shown or taught to her. Abusive events in her life led her to drugs and partying and the affection and approval of men. Men who really didn't love her but used her. When Robbie came into her life she thought it would be different. The emptiness was still there.
"We did a lot partying, drugs. We did what we thought was fun," said Alex. "We still stayed together, made it through it. Once Robbie and I got serious in our marriage, we got pregnant but then miscarried. We struggled for years after that to get pregnant again."
Through infertility struggles, Alex's bitterness and unhappiness took a hold of her heart. While Robbie didn't use hard drugs, he still drank and did marijuana to escape the emptiness. He thought that was fine. He actually thought it was just medication to help. Looking back he knows he was lying to himself.
"I was barely hanging on. I had a temper and got into fights. The last couple years I started to lie and sneak meth behind Alex's back," said Robbie. "I would tell myself it's a one-time thing. But I started using more. I was seeking it more."
Robbie went back to treatment. One day, Alex was invited to go to Citylight by her cousin. Part of the sermon that morning was about children and fertility was mentioned. Remembering the hardship of it, Alex lost it. She broke down in tears.
"I prayed that morning that I would find peace in our situation and I knew I was sold at that point. Jesus is real. This is tangible. It was as direct a prayer as it could be. That's when it started," exclaimed Alex.
That was the first time Alex decided to change more than just part of her life.  Soon after she began to recognize God using her marriage and her situation to help her understand the need for Jesus. Instead of wanting to give up, she wanted to stay in her marriage. She wanted to give God the control.
"I actually began giving thanks to God for allowing us to go through this," said Alex.  "I knew Christ was making me stronger. It was heartache, but lead to a real understanding of Christ's love."
"Knowing that and giving it over to Christ gave me such relief," explained Alex.
Robbie soon came home after treatment. There was no denying that Robbie would struggle with his past and with drugs even when he got back home. Quitting drugs is not that simple. A few months later, Robbie relapsed.
But this time was different.
Alex did not threaten to leave him. She knew God was in control and working in both of their hearts. They both agreed that they needed help. That's when they reached out to their City Group and to Alex's parents. Their City Group provided support and encouragement and Alex's parents agreed to move in with them to help.
"Because she didn't kick me out and was obedient to God, it was like I was finally ready to change, and for good," Robbie explained.
Soon after they found out they were pregnant.
"Christ provided a huge sign of love to us at the perfect time," said Alex.
Now, Robbie and Alex are being more intentional with their marriage because of Christ. There's less anxiety and fear. Instead of overdoses there are normal disagreements and struggles.
"I didn't think I deserved anything good. Now I do feel it. I didn't believe God would forgive me. Now I do," Robbie explained.
Robbie wants to share his story hoping that it can help others. More importantly, he wants to be a good father to not only to the baby he and Alex are expecting, but to his teenage daughter.
"I feel strongly that God is calling me to be in my older daughter's life. I now think I deserve to be a part of her life," said Robbie. "God is calling me to be a good man for her."
"Drugs are powerful and only one person can fix it. Jesus," said Alex.
Robbie and Alex finally are experiencing grace and in two ways. Through Jesus's love and forgiveness and through the baby Robbie and Alex are expecting whose name will be Olive Grace.