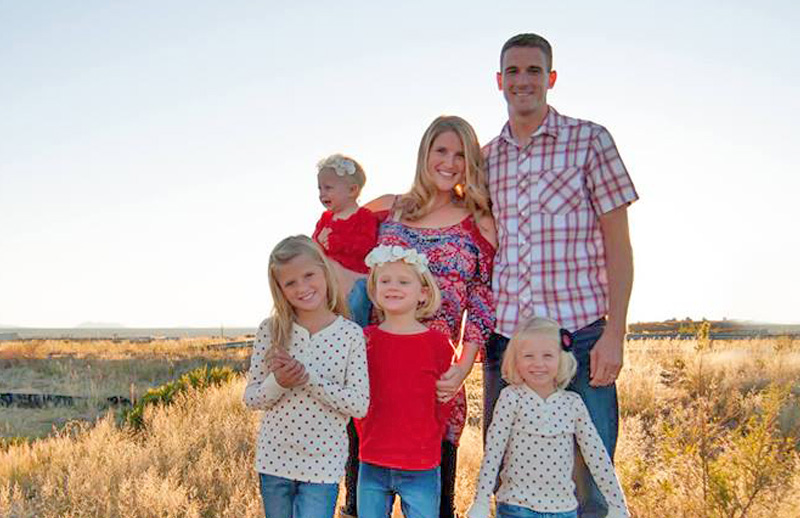 Citylight, as you know, we have been planting churches, which means we have been sending out some of our best pastors and running with a lean staff team. This has been a tremendous Kingdom win for our city, but has also required us to continually ask the Lord to provide new laborers, pastors, and leaders for our local church. Our elders and staff team has started praying every day for laborers. We don't want to just find another pastor, but to find someone who has Christ-like character, chemistry with our team, and ministry competencies that will bless our whole church.
That is why this announcement is so fun for us. Citylight family, please meet Phil and Paige Robinson! Phil will be serving as the Pastor of Family and Student Ministries. He will be giving oversight to Citylight Kids, Club, Middle School, and High school ministries. Phil will also be working proactively to serve families in our church and helping them think through discipleship in the home. Phil is a father to four girls and it's been a blessing to observe how he has intentionally led his family, prayed with his kids, and modeled to me and others what family discipleship can look like.
Phil and Paige are more than just great parents; they are proven leaders who love Jesus and the mission of God. I met Phil in Juneau, Alaska when we were college students on a summer mission trip, and we ended up being roommates. At the time, he was a student at New Mexico State and was helping to disciple men, lead bible studies, and reach out to lost students on campus. Unlike me, Phil was also attending classes and reading books. After four years at New Mexico State, Phil graduated with a 4.0 in Civil engineering and saw a number of his classmates come to faith in Jesus.
After college Phil got married to Paige, and started working for WorleyParsons, a large engineering company located in Houston, Texas. Phil and Paige got involved in a local church plant. Paige quickly started taking leadership roles in kids and student ministries, and Phil helped lead different small groups in their home. Additionally, Phil kept getting promoted at work, but after 3 years as an engineer, Phil and Paige started feeling like the Lord was calling them into full time ministry. After praying and talking to their pastor and close friends, Phil and Paige joined staff with Campus Crusade for Christ (CRU). This required Phil to quit his job and raise financial support. It meant selling their new suburban home and moving into something smaller. It meant walking away from their church family in Texas and moving to New Mexico where Phil would become the new campus director of the student ministry at New Mexico State. It was a wild transition, but the Lord was calling their family into something new!
For the last 7 years Phil and Page have been serving with CRU at New Mexico State. They have re-launched the campus ministry and seen the Lord grow it from a handful of kids to over 120 students. They have also been active in their local church, and Phil has preached when needed. A few months ago we invited Phil and Paige to Omaha to meet with our staff and elders. After interviewing them and spending time with them, we were excited to invite Phil onto our staff team. They have sold their house in New Mexico, bought a home in Omaha, and are in the process of relocating their family of 6!
Phil and Paige will be getting settled in Omaha over the next few weeks and Phil will officially join our team on Aug 2nd. If you see this family on a Sunday be sure to introduce yourself, say hi, and make them feel welcome!