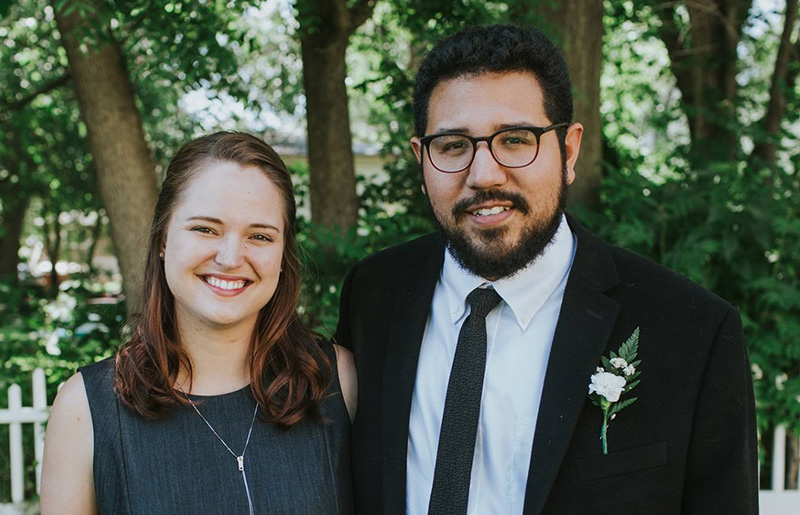 Citylight family, please welcome back Gabe and Ashley Jasso as they return to Omaha from England! Gabe will be serving once again as Worship Director at Citylight Midtown. We got together with Gabe and asked what he and Ashley have been up to this past year and how God has been moving in their lives. Here is what he had to say:
Over the past year Ashley and I have been living in Cambridge England. She has been studying Engineering at the University of Cambridge and I have been working at a church plant called Inspire London. Inspire is about the same age as Citylight Midtown and very much reflects London. There are about 150 people who attend Inspire (which is really great for a church in the city!) and over 20 languages spoken.

God has been doing a couple things in our lives. He has brought us closer in our marriage. I think when you are in a place you have never been before and you have an identity as foreigner, you really have no choice but to rely on familiarity and family. For us what was familiar was our Father and each other. Beyond that God has show us a vision of what a united and diverse church looks like. He has show us the beauty of being around people who are worlds apart from us culturally, ethnically, and economically; yet while we are different we can be united in Christ. It's absolutely beautiful.

Coming back to Citylight feels like a joyous homecoming but also a weighty homecoming. Obviously we have so many friends and family in Omaha who we love and cherish, but there is also a lot of work to be done. There is a desire my wife and I feel to not just "play church"—to go about church business as usual—but to actually give up our lives to see people reconciled to each other and their Saviour. I want to challenge our church family and call us into a vision of a unity and diversity. Not for the sake of growing a church, not for the allure of being culturally diverse, but because its Biblical and beautiful. God has called the whole church to worship him across cultures and to live into the future reality of His kingdom now. The best part is the Holy Spirit is already stirring people's hearts! I think of Shonna Dorsey and Micah Yost who have recently started diversity chats (which you should all go to) and Sarah Buettenback and Kent McCrimmon who have been on-the-ground hand-to-the-plow in this area for a while. God is doing a mighty work; how great is it that we get to come along for the ride!

My role will be in helping to answer the question: "okay, but what does this sound—and consequently look—like on a Sunday morning?" We have so many people at Citylight from many backgrounds who play and listen to many different types of musics, people who play classical music, people who create rock, jazz, folk, and electronic music, people who write rhymes and beats, people who just love to sing, and so much more. Beyond musical styles we have people in our church that come from very different cultural backgrounds! How do those feed into our local expression of worship and teaching? While inevitably there will be tension and grief and strive and all those words we so often avoid; I am confident in the power and grace of God to sustain us along. Our father is not painting an easy, three step, color-by-numbers picture, but he is painting a beautiful one.There is a passion in my bones to see people from very difference spaces under the same roof worshiping the same Christ with the gifts and cultural outlooks God has given them; that when our church family gathers it would truly be a rehearsal for the kingdom that is at hand.
We are excited to see how God will use Gabe and Citylight to reach many cultures and show love to our city while worshiping Him. Give Gabe and Ashley a warm welcome when you see them at Citylight Midtown this Fall.