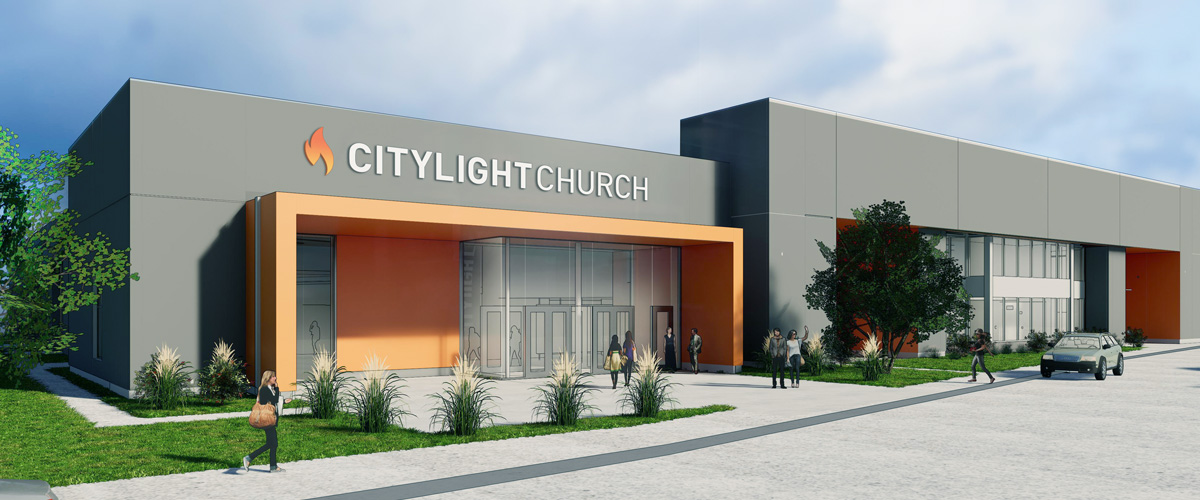 As 2017 comes to a close we need to pause and celebrate all of God's grace. Citylight, God continues to seek and save the lost as we've seen more than one hundred people get baptized just this year! Additionally, we got the joy of helping co-plant a new church, Providence, which is now gathering in the Blackstone district. We praise God that another church is doing their part to saturate the city of Omaha with the gospel of Jesus Christ. Lastly, God provided for our church family in ways that built up my personal faith. As we presented the vision of starting a new gathering in West Omaha, there was 100% unity among our elders and members. Additionally, a wave of generosity swept across our congregation. In 100 days, $1,000,000 dollars was given so that construction on a new gathering location could begin!
We must celebrate God's faithfulness in the past and continue to look to what He is calling us to in the future. In many ways, nothing changes at Citylight in 2018. We are going to be one church, with one mission of multiplying disciples and churches. And yet in 2018, the way we gather as a church family will look different. We will be one church, that gathers in two locations – Midtown and West Omaha.
Perhaps you're reading this and you're a part of the Citylight family but you're still trying to catch up with the vision of multiplying our gatherings. Or, maybe you've been following the story God is writing but have lots of practical questions about leadership, gathering times and overall structure. My aim with this blog is to bring clarity to some of the practical questions you may be asking. In past blogs, we have answered the primary question, "Why a new gathering in West Omaha?" Check out A Vision for West Omaha & Midtown if you'd like to review the vision and reasons for moving to two gathering locations. But here are the practical questions you may be asking…
1. When will West Omaha launch? And what will be the gathering times?
We have purchased the old Hy-Vee building near 144th and Center and are currently renovating the facility. Construction is on pace and we are scheduled to open the West Omaha gathering location in late Jan or early Feb of 2018! As West Omaha launches, gathering times will be 9 AM and 11 AM at both of our church locations. Currently, we are doing three gathering at the Midtown location and have heard from many of you that you miss the in-between time, that allows you to connect with friends and enjoy the family of God. Going back to two gatherings will allow us more time to connect before and after the gathering and reduce some the chaos that is our parking situation.
2. What about Preaching? Will one gathering location be a video venue or will it be live preaching at both locations?
There will be live preaching at both locations at all times. We as pastors value the conversations that happen off stage as much as we do the chance to preach Christ on stage. We want to be in the room with you, worshiping Jesus with you, and preaching God's Word to His people in real time. To facilitate this, we've created a preaching team (Gavin Johnson, Chris Hruska, and Cameron Debity) that will rotate between locations. For example, if Gavin preaches John chapter 1 at Midtown one Sunday, the following Sunday he will preach the same sermon in West Omaha. This will help keep our church unified as sit under the same preaching and teaching. Additionally the gathering pastors (Joe Julian and Phil Robinson) will be teaching at their location four to eight times per year.
3. What about local leadership? Who will be providing constant pastoral leadership at each location?
Just a confession, we've never launched a new gathering location before. This vision of launching a new gathering location in West Omaha has presented some amazing Kingdom opportunities but it has also presented some leadership dynamics we haven't faced to this point. So, this is not just business as usual. We are taking a new step of faith and inviting others to lead in roles and carry responsibilities that we are all unfamiliar with. With that being said, I want to champion the faith-filled men who have stepped in to serve as the gathering pastors of our two locations. These men will be the constant pastor in the room, the one who will be giving stage leadership on Sundays, staff leadership, and shepherding care during the week. In West Omaha, the gathering location pastor will be Phil Robinson. Phil has been serving as the family and student ministers pastor at Citylight. Phil lives in West Omaha, leads a growing and healthy City Group out of his home and is a humble yet competent leader! Joe Julian, will be the pastor giving leadership at Midtown. Joe lives in Midtown and loves being in the heart of the city. Joe has been serving as our counseling and care pastor for the past two years and has earned massive trust by being a consistent, faithful, and a wise voice in the community of Midtown and in our church.
4. What about Worship?
Our worship leaders won't be rotating. Rather, we want to empower our worship leaders to contextualize the worship culture to a particular people and place. The songs that resonate in West Omaha, may not resonate with people in Midtown in the same way. Therefore, we believe having consistent worship leadership in the room allows the worship leader to disciple their musicians and understand the context they are leading in with greater clarity.
5. What about student ministries?
Beginning in early 2018, we will have full student ministry teams at both gathering locations. Our Student ministry staff team will rotate between locations. On Sunday nights, Citylight Middle and Citylight High will be serving students and families who worship in West Omaha. On Wednesday nights, Citylight Middle and Citylight High will be serving students and families who worship at Midtown.
We want to empower our students to be great missionaries and inviters, so having a gathering that is local to where they attend school helps remove barriers. If you have more questions don't hesitate to contact Phil, phil@citylightomaha.org, as he will give oversight to student ministries.
CitylightU, our college ministry, will continue to gather at Midtown on Tuesday nights.
6. What about money and finances?
We are one church with one budget and one mission. This means, money that comes from both locations will go into one budget and will be used for the mission of multiplying disciples and churches. Practically, this means that if money comes in from one gathering, it might go to provide ministry resources or staff at a different location. The elders and I see a great opportunity to use increased resources for greater church planting and care for those in our city!
7. What gathering should I be a part of?
The reason we've moved toward becoming a church that gathers in two locations is because we want to empower you to live on mission in greater ways. Currently, if you live in West Omaha, and invite a co-worker or neighbor they might appreciate the invite but say no simply because it's a 25-30 minute drive. The distance is a real barrier to many, so instead of saying, "Come to us," we want to go to them. Additionally, at Midtown we want your gathering to feel like Midtown. We want you to have space to invite your co-workers, fellow students, and neighbors. We want to see Jesus use your location to take more ground for hHim in the heart of the city. But as it is, we are at max capacity at Midtown. When our unchurched friends come to a church building for the first time, it's intimidating enough. And when you add the extra pressure of cramped seating, congested parking, and donut famines, it creates additional obstacles for people to hear the good news of the gospel. So releasing our families that live out West to gather as a congregation there will create more space to do Midtown on Midtown ministry.
So, if you live in West Omaha, we as your pastors encourage you to remain there. We want you to worship in proximity to where you live. As you live on mission where you live, work, and play, and as people come to Christ, it will be much easier to fold them into a local flock! We won't be policing where you worship and we want you to be sensitive to how the Holy Spirit may lead you. Though you live out West, God might call you to serve at Midtown or to continue a unique ministry you've been a part of there. But from a Great Commission strategy standpoint, it makes the most sense to worship in the midst of your mission field.
While most people are excited about the launch of two gatherings, we understand that some of you have some anxieties. We are creatures of habit and it can be challenging to alter routines and leave comfortable spaces. And goodbyes are hard as some of the individuals we worship alongside each week shift to a new location. But let me remind you that these goodbyes are for the sake of the gospel. From the very beginning, God designed the Christian movement to be a multiplication movement. Though multiplication can be painful at times, leaving our comfort zones is always worth it. It means that more individuals come to King Jesus! As Citylight multiplies yet again, let's be comforted and encouraged by Matthew 19:29, "And everyone who has left houses or brothers or sisters or father or mother or children or lands, for my name's sake, will receive a hundredfold and will inherit eternal life." Citylight, let's be a church that is always open to allowing the Holy Spirit to alter our lives so that more and more people can have eternal life in Jesus!
For His Glory,
Chris Hruska