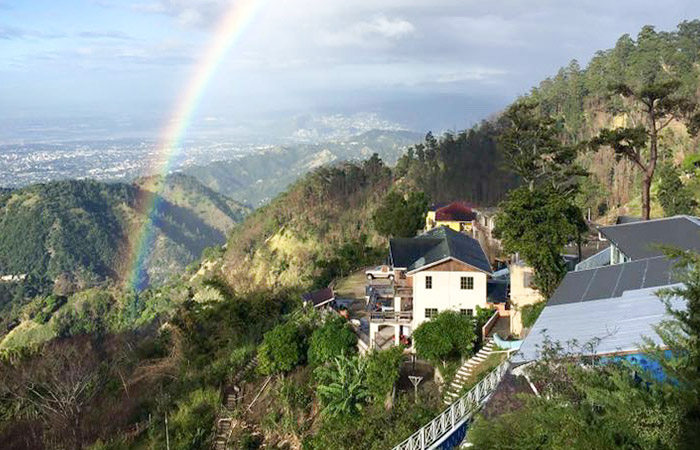 Breathtaking. The views from atop Blue Mountain are glorious as the sun sheds light over the beautiful sea, the city of Kingston, and the mountain sides. With cool morning breezes blowing, the smell of coffee and breakfast wafting, God's words springing from the pages of His book, and the sounds of children waking and playing in the houses below, it is easy to lose oneself in the beauty of the place.
As our team prepared, each day, for the work ahead of us, it was evident that God was in every detail. He taught us through His Word and His people, His Spirit strengthened and encouraged and led us. His children, the kids of City of Refuge inspired us as they showed up to each day's activities. There were moments of joy and hours of fun. Sweet devotion times and fierce competition. God's grace poured out lavishly on all of us, team members and children and staff alike. Behind and under the beautiful smiles and laughter are piled many personal struggles and insecurities, immense suffering at the hands of abandonment and abuse, real fears in the present and for the future and God, in His great mercy, offered us all each other for the week. Discipling, encouraging, enjoying, and loving one another as family. Adults and children normally separated by geography and life circumstances and yet, at our cores, all alike, souls yearning for God and needing a Savior.
And what brought us together? Making much of Jesus as we taught of His great love and shared stories of what He has done and who He is, worshiping him through singing and dancing (LOTS of dancing), playing and crafting and eating as we celebrated life together, sharing sweet devotions together as we discipled one another every day, and football! Lots of American flag football! Red Rebels vs. Blue Diamonds in Blue Mountain Bowl III. Relationships were begun and built upon. Love was given and received. Hope was expressed. The Gospel was shared. And God was glorified!
Our God gave our team eyes to see the beauty of Jamaica, its land and its people. He broke our hearts for the children and staff of the City of Refuge. God worked in incredible ways in and through us as He, once again, invited us into His work at City of Refuge Children's Home, Content Gap, Jamaica.
Until next year!
See a little bit of our experience here: