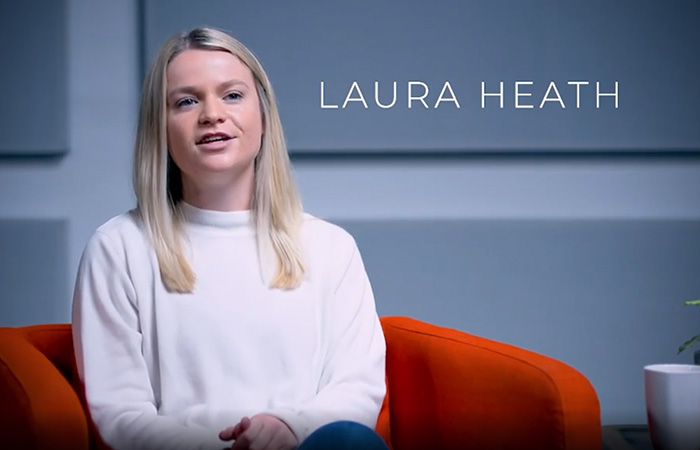 Laura is one of our students who is a part of the Salt Company college ministry at Citylight Omaha. She accepted the Lord into her heart and got baptized this last year. Watch her story of redemption, how God sought after her and gave her a desire to follow Him!
I feel like a lot of college students go into college not really knowing what they are going to do. And that's exactly what I fell into. I was there to play soccer and to make friends. I wasn't there to think long term but it was almost more short term. When I went there I fell into the party life. Which ended up creating a whole bunch of really bad habits. I got into relationships that weren't really helping me to grow in any way and then I focused on soccer and then my academics started failing because I would go to parties every weekend. And start drinking and eventually that took a huge toll on my body. I didn't realize it till about my sophomore year. But the summer before my sophomore year is when I went to a party and I actually getting alcohol poisoning.

Everyone around me seemed to have their life perfectly figured out. Everyone seemed to be the perfect Christian. Following God and trusting everything that the bible has to say. But I was repeatedly frustrated because I couldn't just do that. So I continued to find it somewhere else whether it was rebuilding my academics, focusing all on soccer, or falling back into drinking and trying to forget all my problems over the weekend. And so it wasn't really until my sophomore year that I really I decided to make a change.

It all started when I was talking to my cousin and she introduced me to someone who got me connected with Mirrya. And so it wasn't really until I started meeting weekly with Mirrya that we went through the Gospel of John. I 've heard about the Gospel growing up but never really read into it in depth until she and I went through it after doing a bible study and really diving deep into on what the Gospel of John had to say it made me really realize that it wasn't really anything that I had been doing it was the through the life, death and resurrection of Jesus Christ where I realized that we are all saved. When she pointed that out to me that's when it really flipped the switch on my journey to finding my faith in Christ.

It wasn't easy at the beginning I still had a lot of learning to do and so even after we kept meeting I was still confused and doubtful. But eventually I actually remember it was specifically a Saturday night where I used to always hate the weekends because at northwestern I really felt that time was spent with friends and drinking and doing all those bad habits that were not getting me anywhere and it took a night on Saturday where I was feeling extremely lonely for me to, I just stopped what I was doing and I opened up my bible and actually reread the book of John and I just started crying because I finally felt like I realized in that moment that I was ready to dedicate my life to Christ.

God kept working in my life to lead me up to that moment and introducing me to Mirrya who then introduced me to Salt Co. it helped me leave all of those broken sins and broken feelings and the past. It was that Saturday night when I decided to finally dedicate my life and put my full faith into Jesus Christ as my Savior that I actually decided that I was going to get baptized. So it was the next couple of days I got into contact with Mirrya and we started to plan out when I was going to get baptized. We got to do it here at Citylight Church and the midtown location. And all my family was there. And it really meant so much more being able to get baptized this year. Of all years.

Before I was never confidant in speaking about the gospel or even talking about what Christ has done in my life to those that I was even best friends with or spent a lot of time with. And so now that I have been baptized and I have publicly declared my faith in Christ its actually helped me become more confidant and talking about that in my everyday life. Whether it was in my City Group or at church on Sundays or even at dinner with my family.

Salt Co. has just really been a place where I can be vulnerable and see others be vulnerable. And I can see that we are all broken people and none of us are perfect. But we all point it back to Jesus. That's what we are here for. I love seeing my friends but I am not there to just hang out. I'm there to see ways that we can all point it back to Jesus.