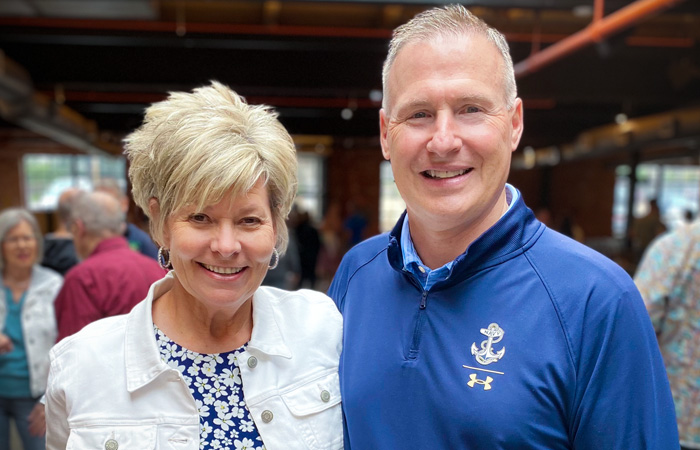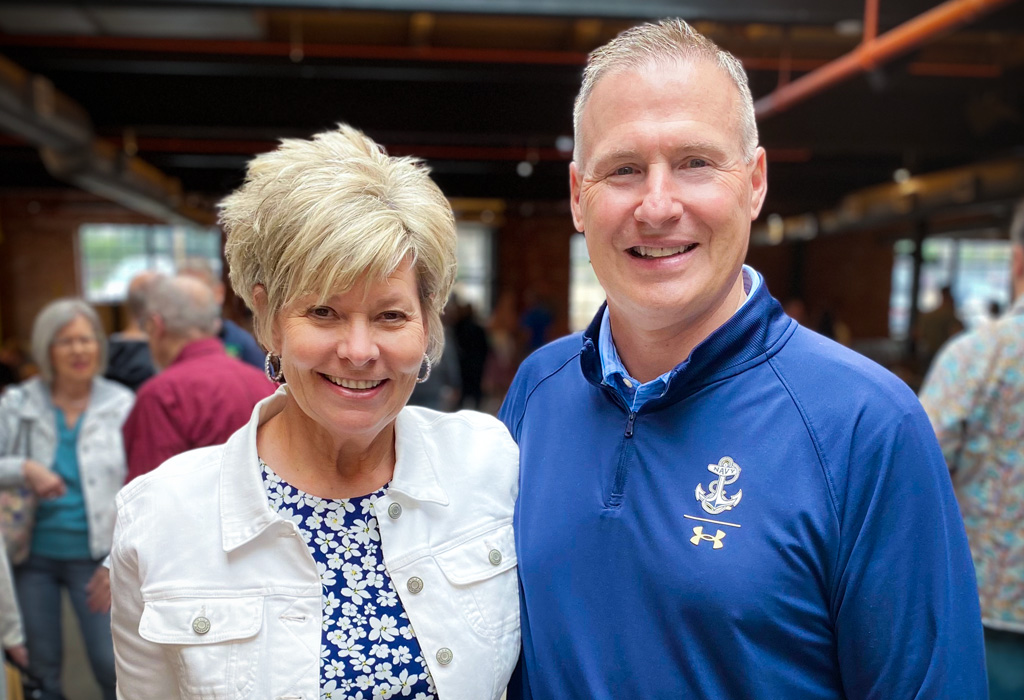 In the Bible, money is mentioned 2,340 times and it's no surprise considering money is a huge part of people's lives. It takes money to provide for your family and for yourself. Most everything in life takes money to do it, however, the more money you need or have, it still seems like it isn't enough and you need more. We might even find ourselves thinking 'if I just could make more or have more, then everything would be fine' or maybe you find yourself saying 'if I could make more money, I could give more.' But really, it's all a cop out. God knows our heart and He wants us to be free. That's why the Bible addresses the topic of money so often.
Pat Mertz personally understands this drive for money and the control money has on life and on hearts. Early on as a young man, he knew he wanted to be rich. He saw his father's success and after Pat graduated from college, he launched very quickly into wealth and accomplishment.
"I always thought about owning a business," Pat shared, "but I wanted to do it for the wrong reasons. The reasons were wealth so that I could do whatever I wanted to do. I wanted people to look at me and value me for my success. However, the harder I worked at being successful, the worse I did. Everything I tried to do was not enough and I spent most of my time trying to get rich quick."
It was in these first twenty years that Pat chased and ran hard after his business, his earnings, and his success. Soon after marrying the love of his life in his early forties, he began to see and desire something different. Pat gave his life to Christ and he knew then he needed to change everything.
"I was always on to the next idea, or the next greatest thing, but when I gave my life to Christ, He slowed me down," Pat described. "God slowed me down, and it was then that I realized that I needed to seek Him, and not the material things I had been focusing on. That was short term thinking, not eternal thinking. Once I understood that, things became easier for Pam and I."
A few years into Pat and Pam's marriage, and after accepting Christ, Pat made the biggest, and worst, financial decision of his business life. Pat felt as if he was at his lowest, and a failure. It was shortly after this season when Pat and Pam were asked to lead the Crown Financial ministry at their Church.
"Pam and I agreed, with another couple, to lead Crown Financial," Pat explained. "What we thought would be one season led to 12 years. What was strange was God gave me this opportunity right after making the worst financial business decision of my life. I mean Crown is a financial ministry for people who don't know how to handle money or are struggling with it, and now God wants me to lead these people? God sure has a sense of humor."
Pat and Pam led groups through Crown's curriculum and as they did, they each realized that it was not just for the people attending, but also for them.
"God wanted me to help others, but He also knew that I needed more growth in my life," Pat confessed. "While leading these Crown groups it was very apparent that the majority of these people had not relinquished their control of money. In fact, money controlled them. Crown Financial explains that nothing is ours and everything is God's, and we are just stewards of it. They also do a great job of teaching you to be a steward of what God has given you. In week four of the class Pam and I began to see a difference in the students taking the class. Students realized that they are stewarding something very important. They then leave with the thought 'I am stewarding God's money, and everything I have, I steward for the Lord Jesus.' It's like a light bulb clicked on for these people, and they realized that they have been put in charge of God's resources and to start taking better care of them. The truth is, everything we own is God's, and when we die, He is giving it to someone else. So, while we're in charge of it, for this short period of time, we need to be good stewards of it."
Crown Financial's mission is to equip others with the truth of biblical stewardship and through this, restoration happens in people's finances, marriages, entire families, businesses, communities and countries. In Crown they call this redemptive stewardship. When we care for what God has given us in the way He attended, we are blessed and far beyond our finances. Crown teaches others to be faithful stewards by applying biblical truths.
In the beginning, Pat and Pam had an immature mind set but with each Crown class, they were growing and believing and surrendering.
"Here we were broke, our business failing, and He was using us at ground zero," Pam described the first year of leading Crown. "The other couple that led Crown with us was in the same predicament. They had a huge business and were in debt from a bad partner. Thinking back to those times, it is comical to think of the four of us sitting there and leading Crown when we both had shown that we hadn't handled God's money correctly. It's like we were also teaching the group 'do what we say, not what we do.' God was using us and teaching us through His word. Judgement was not part of our teaching, and we had humility. We were as low as we could be, and we had no other place to go but to God. We shared and said over and over 'this is your deal, Lord. Help us and we will follow you."
With Crown, God revealed His desire for Pam & Pat's hearts, a place that money and material possessions had owned for so long. The Bible states in Proverbs 'the plans of the diligent lead surely to abundance, but everyone who is hasty comes only to poverty.' This hit home for Pat.
"For so long, I had a false sense that 'I had arrived'," Pat described. "It wasn't until I gave my life to Christ that I understood that my goals were shallow and very unfulfilling. But my goals with God were limitless. My goals were limited under my own power, because as soon as I reached them, I wanted more. I never realized that God was the "more" I was looking for, and that I could accomplish anything with God leading me. Teaching the Crown principles only reinforced this truth. It truly opened my eyes."
Since those beginning years, there has been fruit in Pat and Pam's marriage, business and life. One source can be directly linked to when they obeyed what God was telling them with their tithings.
"God revealed to both of us at the same time to tithe, and to do it fully," Pam explained. "I remember one Sunday in church the pastor was talking about how it's an insult if you trust God with everything except your finances. At that very moment I remember writing out our tithe check for half the amount we should have been tithing. We had some unexpected expenses, and I didn't think we could afford the full tithe. But, after the pastor's sermon about trusting God I ripped up the check and wrote the full amount. The next day, we had more money in our checking account then what we thought. God provided then, and has continuously provided in different things along the way. He provided as we trusted Him. We give Him the first fruits as He abundantly does the rest."
Both Pat and Pam explained that this isn't a prosperity gospel, but something entirely different. God was revealing to them what it meant to have freedom from the bondage of money.
"Basically, God blessed us financially, both personally and in my business, BUT that wasn't the point," Pat said with strong conviction. "The point is that I began to realize what Jesus did for me on the cross, and that propelled me to want to do more for Him. It's not works or prosperity. I knew in my heart that this was right and I trusted Him and He blessed me. He blessed Pam and me. He gave us opportunities to give, and we gave, and He provided. We wouldn't have understood this if we hadn't struggled at different times with money. It came down to attitude. Were we going to accept what He wanted for us, or were we going to keep floundering with what we wanted? Once our goals aligned with what Jesus had planned for us, the whole thing took off. We just sat back and watched."
Today, Pat is helping launch a Crown class this fall at Citylight. It has become very important and a real desire for both Pat and Pam to show younger people, and the whole church, what they wish they knew at their age.
"God has one point you probably are missing: it's not yours, it's all His," Pat directly said. "He doesn't need your money. He's got cattle on a thousand hills (Psalm 50)."

Pat continues saying, "If money is your God, you will struggle. God doesn't have a problem with money, it's the "love" of money He's not happy about. What it comes down to is, He wants your heart."
If you are trying to do everything on your own or maybe it feels like you're stuck and controlled by money, debt or lies, God could be revealing to you a powerful tool right now. A tool that He used with Pat and Pam that freed them. He wants you free. He wants your heart.
Crown Financial will be launching at both Midtown and West late in August. More information about registration and offerings will be made available church-wide soon, so be on the lookout in our emails and social media. Space is limited in each class, but classes will be offered again in early 2023.
Right now, we are looking to recruit and train more class facilitators. Experience with Crown is not required, but definitely a plus. Also, experience with Financial Peace University is a plus as well. Regardless of your background - we will train you! To express your interest and get more information on helping to lead a Crown Financial group - please contact Ben Hamilton at ben@citylightomaha.org.