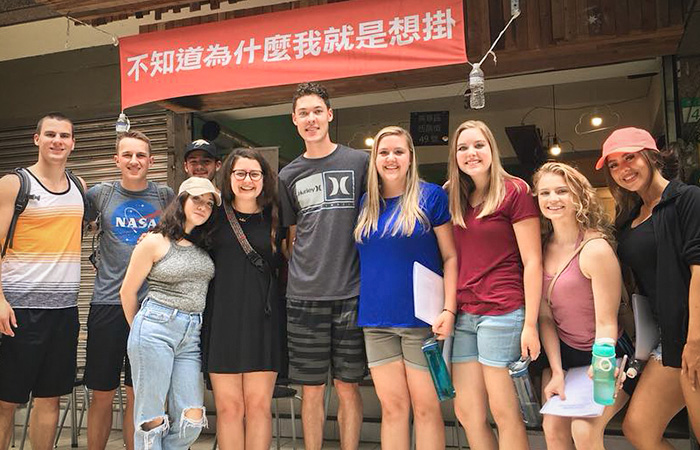 While in Taiwan this past summer, our CitylightU team partnered with Envision in Taipei. The Aroma, a coffee shop/church plant, was started as a way to connect with the people of the Ximen (pronounced she-men) District so that they might taste, sense, and then spread the aroma of Christ.
Their weekly rhythm consists of 4 gathering opportunities:
Coffee Talk - Anyone and everyone is invited to come and practice their conversational English, talk, have fun getting to know each other, and also meet and get to know the short-term American teams that come during the summer.
Bible talk – Smaller groups of believers and those seeking a safe place to ask questions join in Bible studies. They pick a passage from the Bible, really dig into what the passage means, and then work to apply it to their lives. They then pray around the tables with and for each other.
Worship night – An open time for people to come in and spend time worshiping Jesus.
Aroma Church – All are welcome to a Sunday afternoon gathering; baggage and questions welcome.
Aiden Klaassen, one of the students on this team, shared with us some of his experiences and thoughts on the trip:
What were some highlights from the trip?"We were there for 2 of the Coffee Talks. We attended one and later taught one after receiving training on how to write our own curriculum. During the first one, each of us was able to lead or co-lead a table for the conversational part of the coffee talk. The subject was homelessness in Taiwan. We were able to have such good conversations at our table about awareness and how we can sometimes overlook homeless people because we just assume that they are on the streets because of addictions or bad choices, like not wanting to have a job. About halfway through the coffee talk the lady who led it, who also does ministry with the homeless in Taipei, brought in some of her homeless friends to be interviewed by the people at our tables. It was so cool to see how the people at the tables really welcomed them in and took the time to hear their stories, learning from them what is actually a help to them and what makes life harder for them. We were able to see the huge help it was for them all to meet and see that most of these people were just like them at one point and that many of them attributed their homelessness to family issues.Another thing that I really appreciated was the fact that the people on staff at Aroma take sabbath really seriously. They do ministry on Sunday but when Monday came they all took the day off and just rested. The coffee shop was closed, they gave us the whole day, and we went to the beach to spend some really crucial time together as a team! It was a good reminder to take time to rest even with the fast-paced mindset that we, as Americans, have."
What was your biggest takeaway from the trip?"The biggest thing that I saw and really appreciated was just the amount of intentionality in the leadership. Whether in the ministry, business, or with the short-term teams, they were just always so willing to go the extra mile to make people feel welcomed and a part of the ministry. They really care seemed to care about us and asked us how we were doing and what God was teaching us. Their focus was always on Kingdom goals! I am working my hardest to take that and implement that in my daily life because it was such a blessing to me and I want to be a blessing to others through that."
What are some challenges that you faced in Taiwan?"Some of the community outreach that we did made me go way outside of my comfort zone and I really didn't like that. One of the reasons that was so difficult to do was the language barrier. The need for a translator and the fact that people didn't want to talk made it really awkward sometimes."
What is something that God taught you in Taiwan?"I went into the trip asking God to show me some things from the ministry there that I could bring back and use with my college City Group that I am leading this year. The biggest thing that I got from the leadership there was intentionality in relationships! Another thing I appreciated was that the leadership wrote all of their own curriculum for their different ministries and I, again, want to bring that into my City Group. God also taught me how to listen for His voice and be able to discern it. I found it easier for me to do this in Taiwan than here in the states because I didn't have all of the distractions I have here."
Would you go again if the opportunity arose? If yes, why?"Yes, I would go again if I could. If I went again I would want to go on an internship for a year so that I could better learn about the ministry and be able to create better, lasting relationships with the people that come into the coffee shop and with the people on staff. Also, to see the dynamics of the missionaries that are on the ground there full-time and learn better how to practice intentionality in my everyday life."
Do you have any advice for anyone who is on the fence about going on a mission trip?"If money is an issue, GO! God will provide. Not that it won't be hard and maybe scary sometimes, but He will be faithful. Also, try your best to go into the trip with no expectations about what it will be like or what you are wanting God to teach you on the trip but rather go into it asking how GOD wants to use you and teach you on the trip!
Check out other highlights from the Taiwan trip on the CitylightU Takes Taiwan page