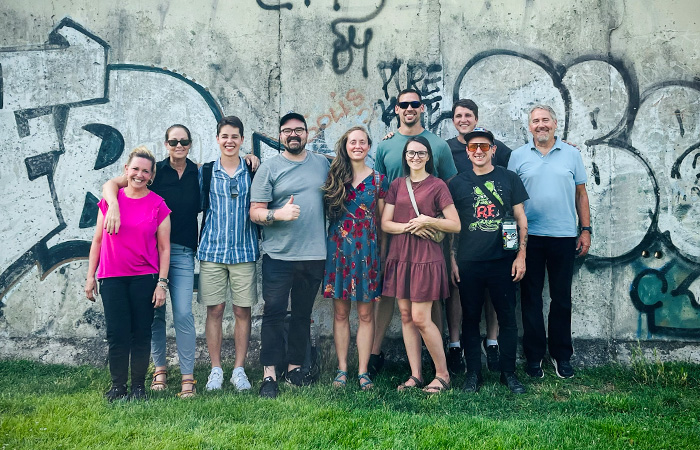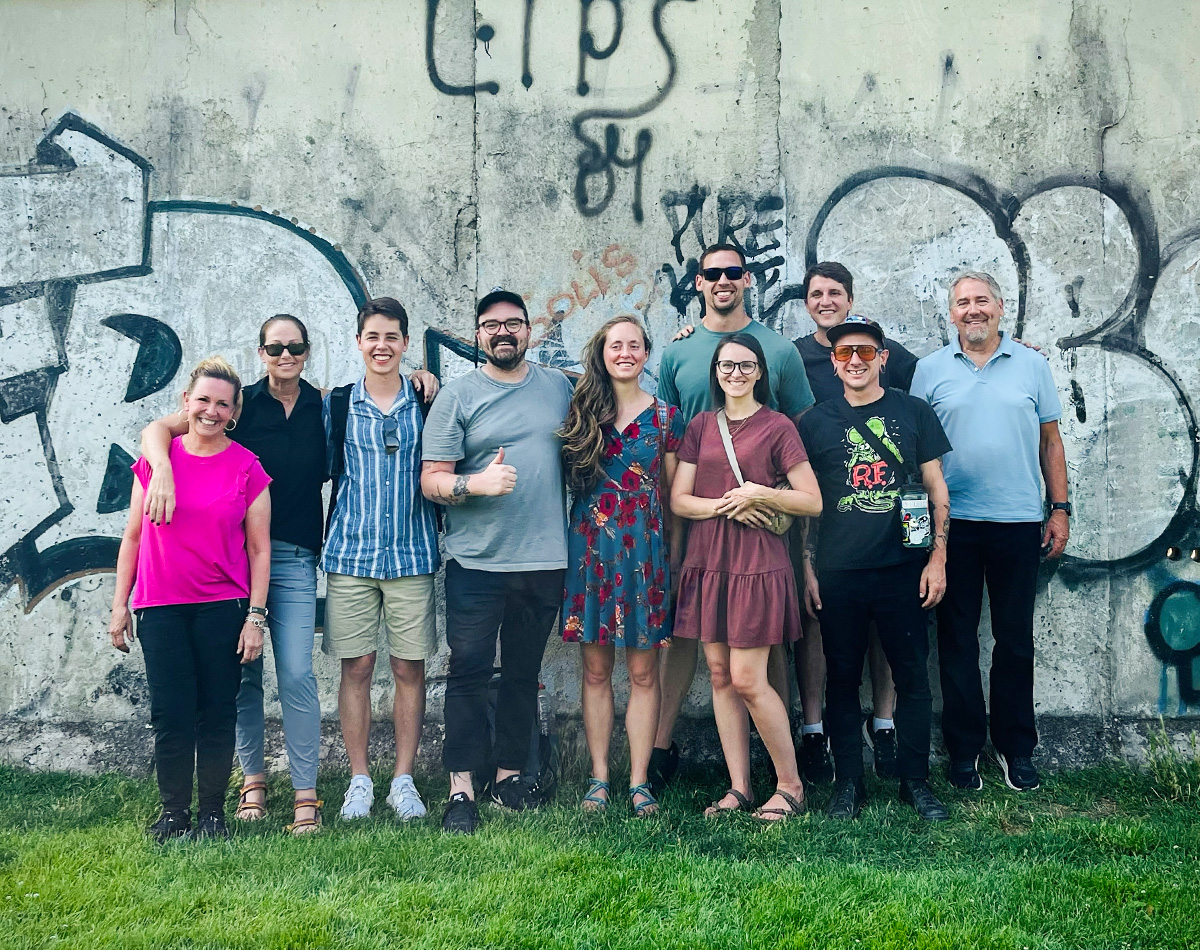 Thus says the Lord GOD: "I myself will take a sprig from the lofty top of the cedar and will set it out. I will break off from the topmost of its young twigs a tender one, and I myself will plant it on a high and lofty mountain. Ezekiel 17:22
Berlin, a city beating with creativity, exudes artistry in its streets and its people. It's this vibrant energy that captivated Joe Cutler. Joe, inherently drawn to creativity, found himself yearning to bridge the gap between his artistic inclinations and the constraints of everyday life. Earlier this year, the call for a summer mission trip to Berlin provided a tangible way for Joe to merge his passions with his faith. The Berlin global team was looking for creatives to go into the Berlin community to understand and be a part of the culture.
"I've been in creative communities all my life and being with "my" people," Joe shared. "I get other creatives and I understand where they are coming from. It made me want to go. The pull of "hey these are your people, and you know how they talk and think" was pulling on me."
As Joe and the team prepared to go to Berlin, one thing stood out to Joe and that was not to have any preconceived opinions or thoughts prior to going. To be as open minded as possible and to learn as much as they could about a new culture and serving alongside the global workers who are already there. This mindset helped Joe throughout the week in Berlin.
"When we got there, and seeing all the history and culture helped me to then understand the people and where they were coming from," Joe explained.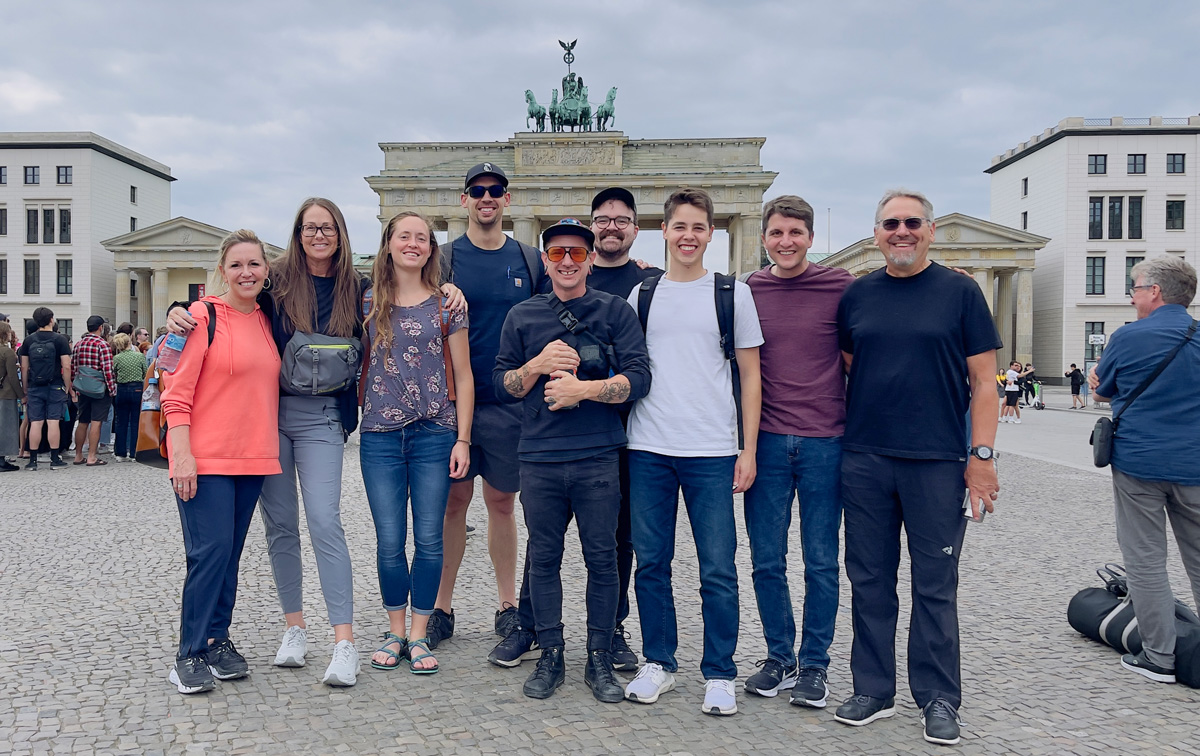 Standing amid Berlin's history and culture, Joe's perception shifted. The city's transformation from a religious hub to an atheist stronghold presented a unique outlook. Churches now stand as museums. However, with open hearts, God's presence can transcend mere locations and reside within the people. He discovered that genuine care and curiosity unlocks conversations led by the Holy Spirit.
"You can focus on that as a negative," Joe explained. "But you miss out on the Holy Spirit and what he is doing now. I learned that an open and soft heart can lead to understanding that God doesn't work in just places but in people. The people in Berlin are willing to talk when you get the opportunity. It's not the first thing you talk about, but if I generally show care and interest, then over time, regardless of our religious upbringing, they do open up. German culture craves deeper connection and conversation."
While the team was in Berlin, they also had the opportunity to work on an unexpected mural for Envision Berlin. For Joe, this was the highlight of the trip.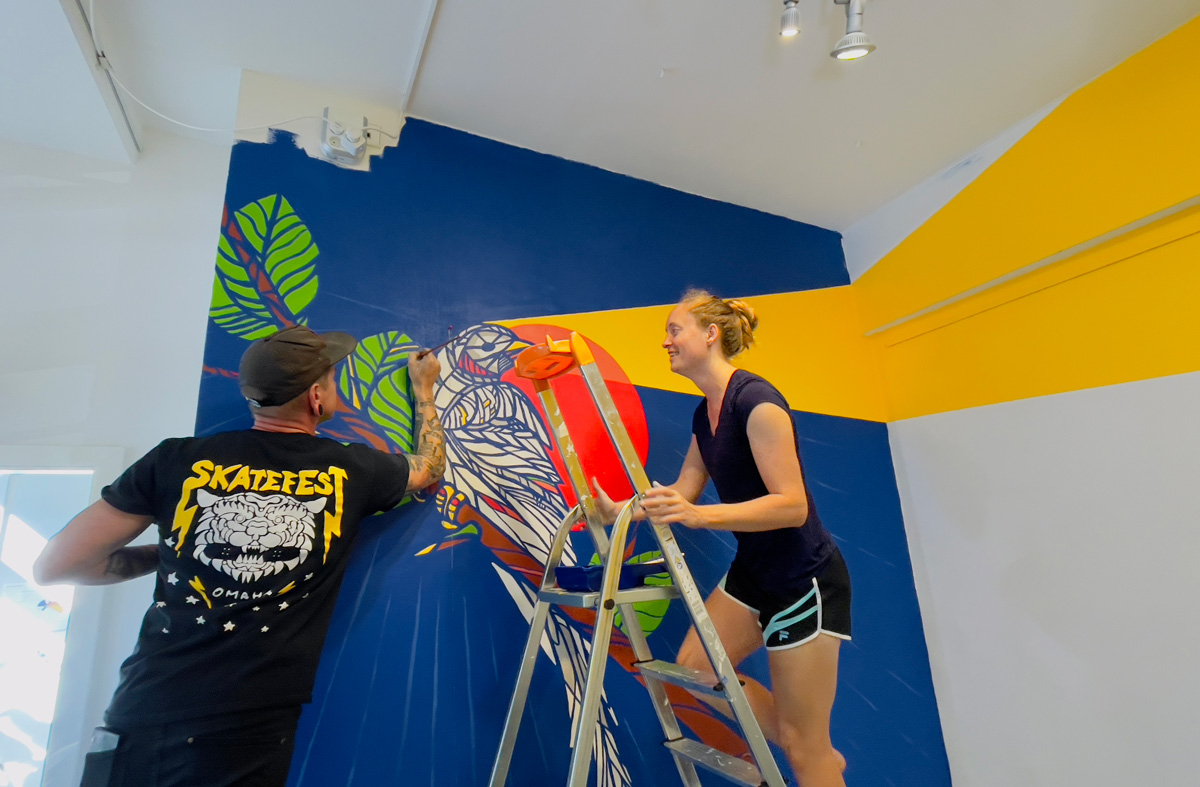 The mural, a vibrant portrayal of a songbird representing their mission and values, was aimed to encapsulate Berlin's spirit and their role in it. Painted within a day by a unified team, the mural acts as an image of remembrance for the interns and residents of Envision Berlin. The mural symbolizes their value of "How do we sing the Lord's song in another land?"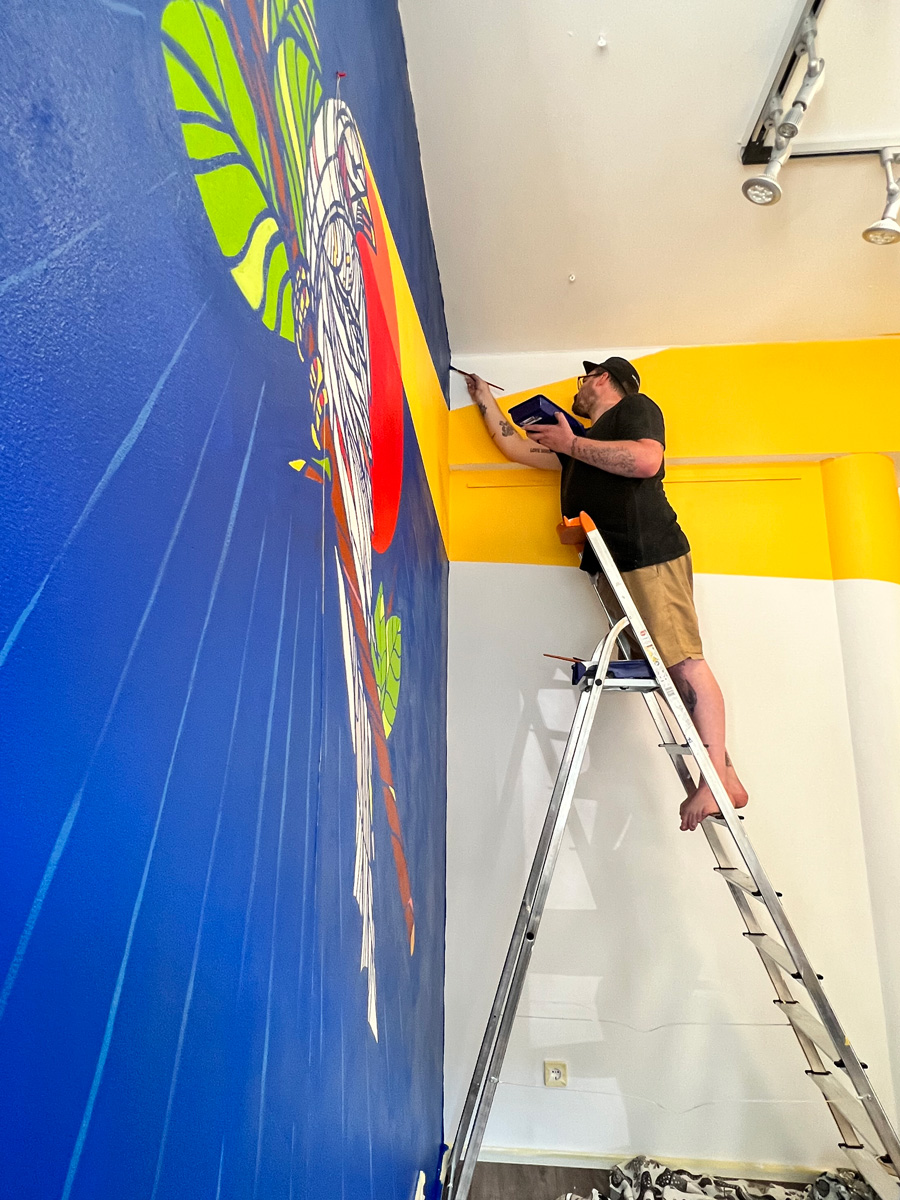 "We got to do this mural as a way to pull Berlin into this space," Joe shared with excitement. "The space is for students and interns of Envision Berlin. We wanted a way to "send" them out into Berlin. We pulled in these bird decals that are everywhere in Berlin to represent people who are 'flying out'. The space is to reflect their mindset of what they do with their actions and seeing the Holy Spirit. Their value is how do we sing the Lord's song in a strange land which is why the songbird was created in the mural. This here is a safe space to do that and to remember why you are doing this good work. We had one day to do it and it was great. It couldn't have been done in one day, but a team of 11 people being aboard together got it done."
An open house and show was hosted at the space and the team helped by serving all who came. They also got to show people the mural and tell the story behind it.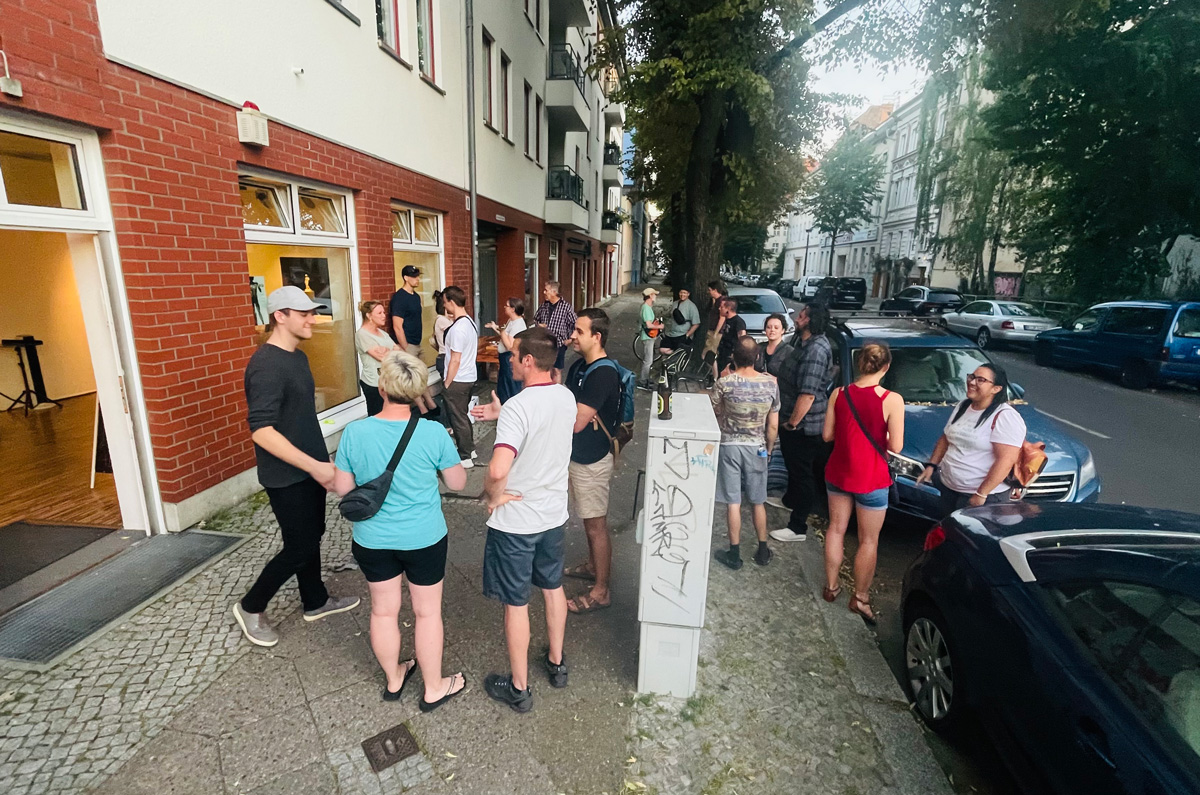 "Every part of the mural meant something," Joe stated with joy. "The space itself is called The Sprig and it's from the book of Ezekiel. If the branch is cut, that's where growth happens, a sprig. But God can take down the branch allowing other things to grow in its place. God is the one that grows it. He will take it away if it doesn't bless His people. That is prominent in Berlin and why the church fell. We chose the colors in the mural in the way that Germany is in the seasons. The grey season is winter and the sun doesn't really come up so we wanted the bright colors. The wrapping around of the mural creates this energy to go out...to go in the world."
A significant part of the mission was working alongside Jon and Rachael, committed global workers in Berlin. Their perseverance and dedication unveiled the marathon nature of long-term missions. Walking alongside them and partaking in their community refreshed Joe's spirit. The experience taught him that actions aligned with the Holy Spirit's guidance hold more weight than mere words.
"I understood from the trip that long term missions is a marathon race," Joe revealed. "Being in a new culture and language and everything can wear on you. Seeing Jon and Rachael and to just be part of their home group and church, and to be there for them was an eye opener for me. They taught me so much including the toll it can have on mental health. I was thankful to be with them in their neighborhood, to do a prayer walk with them, and to be with them for a week. It refreshed me and I'm sure for them too. It made me feel good in a way. It taught me to ask, "How can I reach out in kindness to people." Your words only go so far, but being able to also reach out with Holy Spirit leading with actions means more."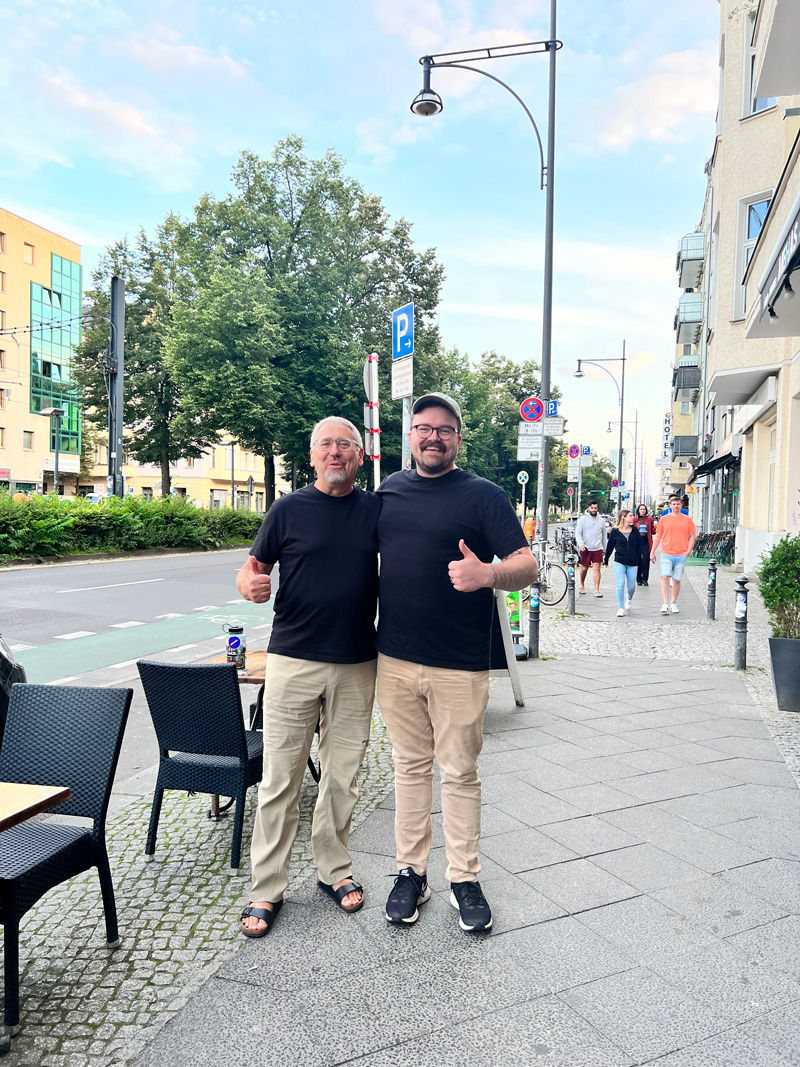 Back home, Joe's reflections have led to transformative insights. He realized the importance of cherishing every experience from the trip. The trip illuminated the power of a servant's heart and the value of operating from joy rather than duty. Joe now aims to infuse this joyful approach into his life, replacing bitterness with positivity and seeing the divine melody in every moment.
As Joe contemplates his journey, he poses the question:
"Where am I making the space to remember who I seek?" The missionaries in Berlin are driven by 3 questions: Who is it that you seek? How then shall we live? How can we sing the Lord's song in a strange land? I want to bring that mentality here and to live knowing that what I do in life is not solely what my job title is at work. Jesus' mission is all around me if I am willing to step into it. That's what I want to change in me and around me."
In the end, what has been uncovered for Joe is the importance of creativity, faith, and genuine interaction into the tapestry that God is weaving—a lesson that resonates far beyond the city's boundaries.
As a church, we go, learn from, and serve alongside our long-term global partners in the Mission Jesus is accomplishing through them. In doing so, our perspective changes! We have a greater understanding of the world as a whole around us and a greater view of who Jesus is as He faithfully moves in and through normal people like you and me. Then we are sent back to our home… not "off mission" but rather "on mission" with Jesus, wherever we are at. If you would like to learn more about our short-term trip opportunities or opportunities to explore God's Mission and His calling, please reach out to Luke, luke@citylightomaha.org.