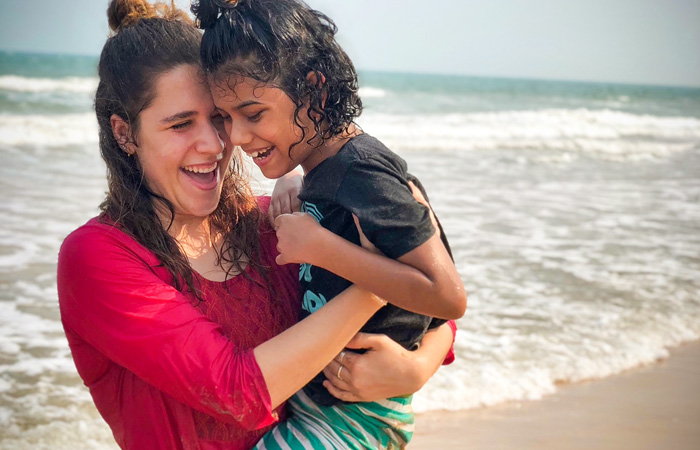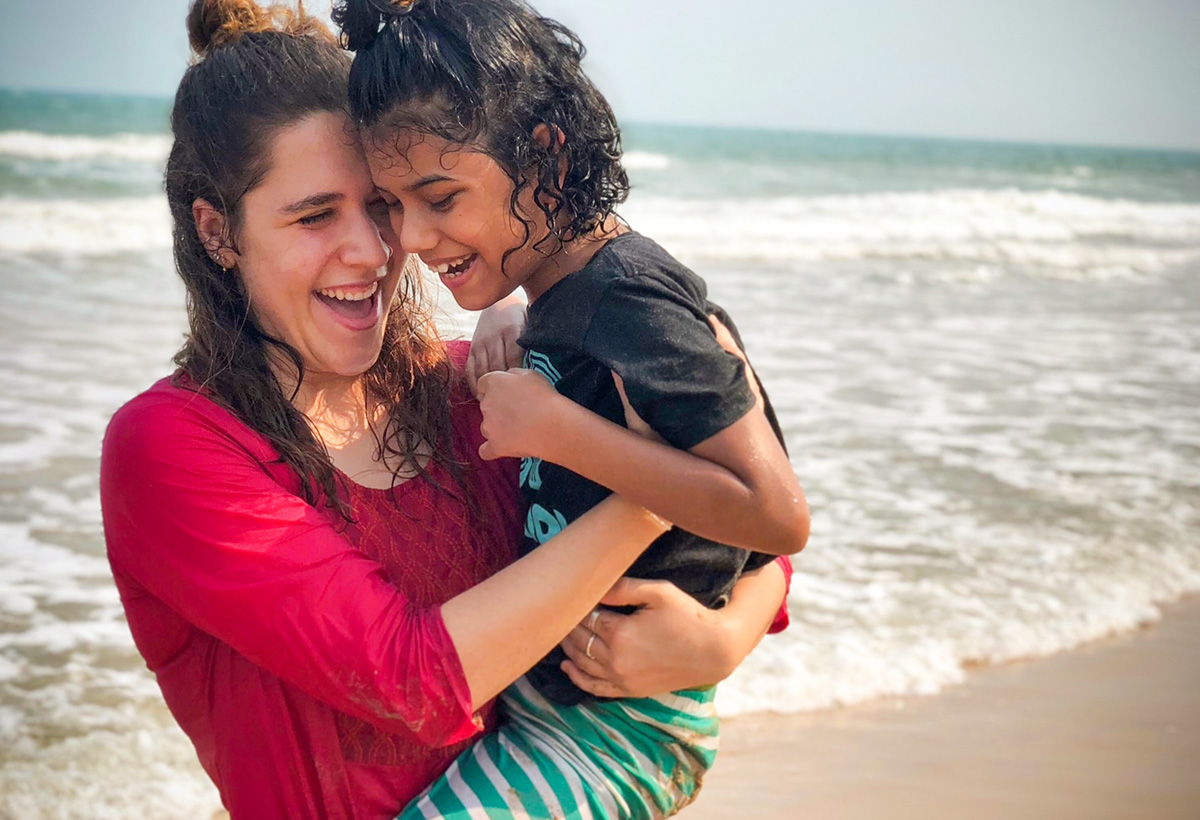 On any given Sunday morning at Midtown God's people gather to praise and worship King Jesus. The worship team leads with songs full of joy and reverence and the gathering of God's people respond with voices radiating, arms and hands lifted up, and with smiles and tears. Everyone is invited to participate and to come before Him. One particular person, Chitti Novakoski, radiates this worship with her whole being. Chitti loves worship and song and music more than anything else in this world and Sunday's worship time and the worship team are the best part of her week.
Chitti's mom, Katie Novakoski, identified early on this joy and love in Chitti when she met her four years ago.
"Within the second day of knowing Chitti," Katie described, "my love for her was way different than any other student, friend, or child I have known. I loved her as like she was my daughter."
Katie met Chitti in 2017 when she moved to India after graduating from college to volunteer at a non-profit called Sarah's Covenant Homes (SCH) for one year. SCH responds to the abandonment of children with disabilities and medical needs in India through holistic care provided in family-style homes. Katie served as a house mom for one of the homes that housed 15 girls. Katie described these homes as something 'in between foster care and orphanages.' It was better than a government orphanage but not the ideal circumstance as a family.
"It was an amazing year," shared Katie. "I learned so much especially about relying on God. It's a different perspective and life in India. It was tough to see the poverty in India and what our kids at SCH would go through such as their separation from their biological families, a lack of healthcare and lack of resources such as program funding and nutrition."
In the first few weeks in the home and developing relationships with the other girls, Katie began to pray for clarity with Chitti.
"I started to think and pray about adopting Chitti," Katie shared. "I loved her as like she was my daughter. I loved all the other girls in the home...but none of them were like Chitti. It felt natural to love her like a mother. I told my mom not very long after that 'I think I am going to adopt Chitti!"
But how? Katie was single and didn't earn much of an income. Around this time, Katie got to know some of the other house moms. One specific house mom shared that she had started the adoption process with one of the girls who lived in another home. Katie knew this house mom was single and didn't earn a whole lot. Maybe adoption was possible?
"The thought crossed my mind that if this single mom could do it, then maybe I could too," Katie revealed. "She had no income so maybe I don't need all these things to adopt."
But was Katie ready for this as a young woman? She was only 24. Did she have what it takes to be a mom of a child with a disability? It didn't take long to think of the events and people in her life.
"My brother was adopted at birth and I also always knew I would adopt," Katie said with a huge grin. "My parents would tell my brother and I that adoption is forever and they were very open about it."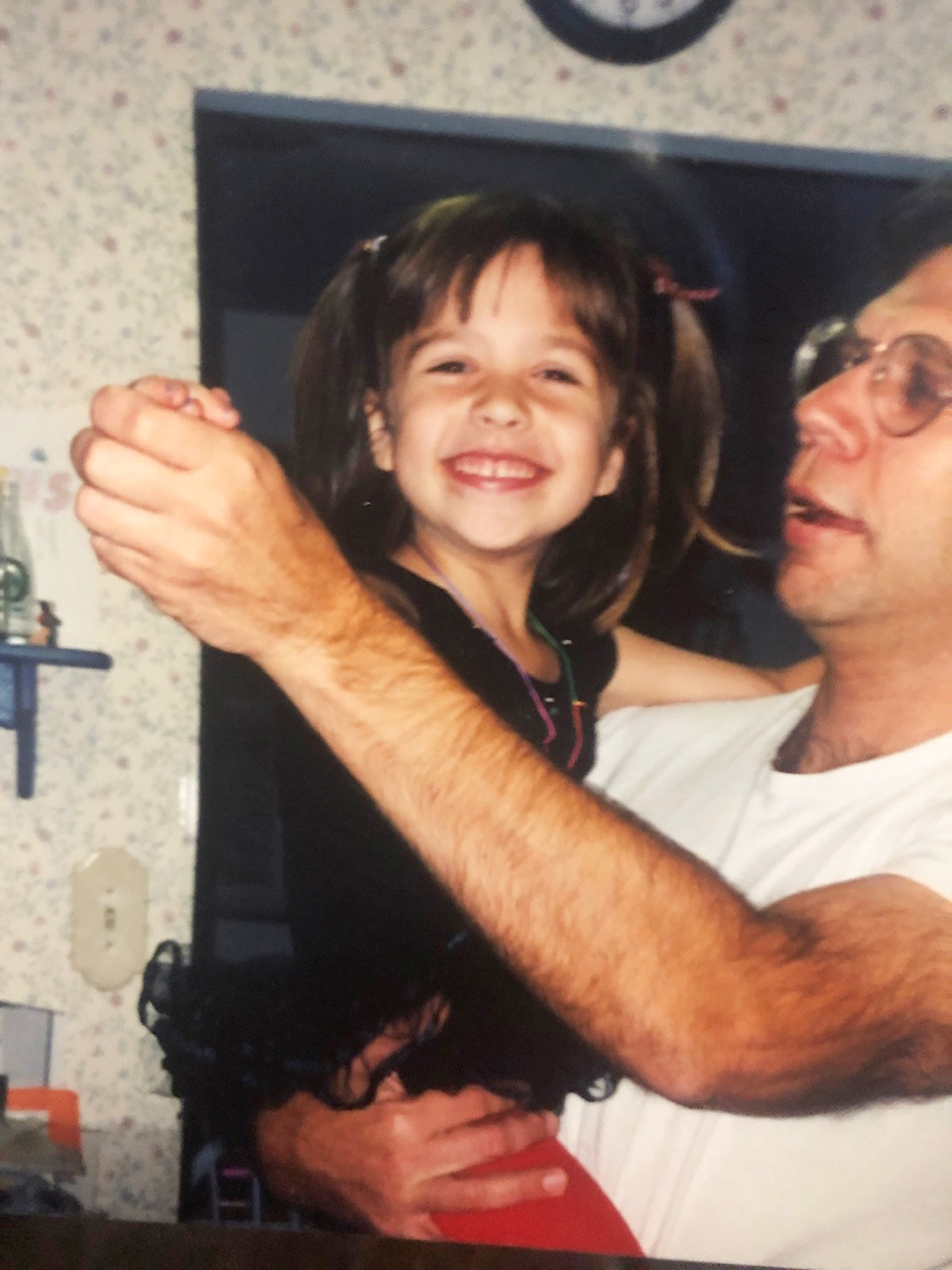 In the first grade, Katie sat side by side with a sixth-grade boy who had autism. Her school at the time practiced inclusion by pairing children with disabilities with other children.
"I made a friend that year," admitted Katie. "A bond was made even though he was non-verbal and had some challenging behaviors. He and I would walk to school together. He said his first words the year we were friends."
From that experience, Katie knew she wanted to be a special ed teacher. She pursued opportunities and positions that involved the community of people with disabilities. Katie was a caregiver, volunteered with special Olympics, worked in adult day rehabilitation and taught for two years in Texas. Looking back at these moments and people, Katie knew God was preparing her for this moment in India. So she began the process of adopting Chitti.
"I always knew and believed God loves us," shared Katie, 'but then being in this relationship and the adoption process with Chitti only made me understand it even more. The way I love Chitti in comparison with how God loves and what I would do for her and sacrifice for her...all that times infinity is what God does for all of us. Adoption gave me even a deeper understanding of this and it grew and grew in India."
Katie finished her year commitment at SCH and stayed in India until she could submit the adoption paperwork. In India, one has to be at least 25 to begin the process. After submitting, Katie had to leave and come back to the U.S. For three years, Katie and Chitti didn't see one another. They were not allowed to have contact during the process. India's adoption procedure was far from predictable.
"It's so bad," Katie explained. "For no reason, they would be closed and leave for holiday. The committee didn't have a set schedule and no one knew when they met. A lot of the times we hoped the judge would show up. You never knew."
The process started to wear on Katie except her confidence.
"I was confident that this was God's plan and I never questioned that," Katie admitted. "Just all the emotions, every day, were a lot. We would be full of excitement about an approval one day and then 2 weeks later we would still be waiting on it."
When Katie moved back from India, she decided to move to Omaha. Her best friend in college had moved to Omaha so she thought 'why not?' Katie quickly found a job as a teacher. A few months into teaching on a field trip, Katie met a fellow teacher, Aaron. Mutual friends quickly got the two of them together for a date and on the second date, Katie shared with Aaron about her process of adopting her daughter, Chitti.
"I wasn't turned off by what Katie shared with me," Aaron confessed. "My little sister has down syndrome so kids with special needs aren't unfamiliar to me. Katie was only 6 months into the process and I knew we had a few years so it just wasn't a big deal."
After a year of dating, Aaron knew Katie was the one and because of the adoption, he knew marriage would have to wait.
"I would have asked her to marry me sooner," Aaron shared. "If we did marry, we would have had to wait another two years to start the process again and Chitti would have aged out. So it made us live day by day. My only option was to date Katie long term. Into the second year of dating and as the adoption got more real, I mostly wanted to wait. I wanted to see what life looked like with Chitti. I had no idea and I was willing to give it a year. Until Chitti came, we just dated and had fun."
For two and a half years, Katie and Aaron had a season of togetherness. In that time, they grew to know one another, Aaron learned more about Chitti and felt a closeness to her, and they trusted in God's plan.
"I think I learned about God's timing in those years," Katie shared. "If it was up to me Chitti would have flown back with me when I moved back from India. God's plan wanted had to happen first. These 2 ½ years together with Aaron was for us to be a couple and have fun."
The thought of Chitti and being a family got real when Katie and her mom left for India in December of last year. After taking them to the airport, Aaron knew the next time he would see Katie it would be completely different. She was returning as a parent. This was going to be a tremendous change in their life...but what kind of change? Would Aaron be the father Chitti needed or not?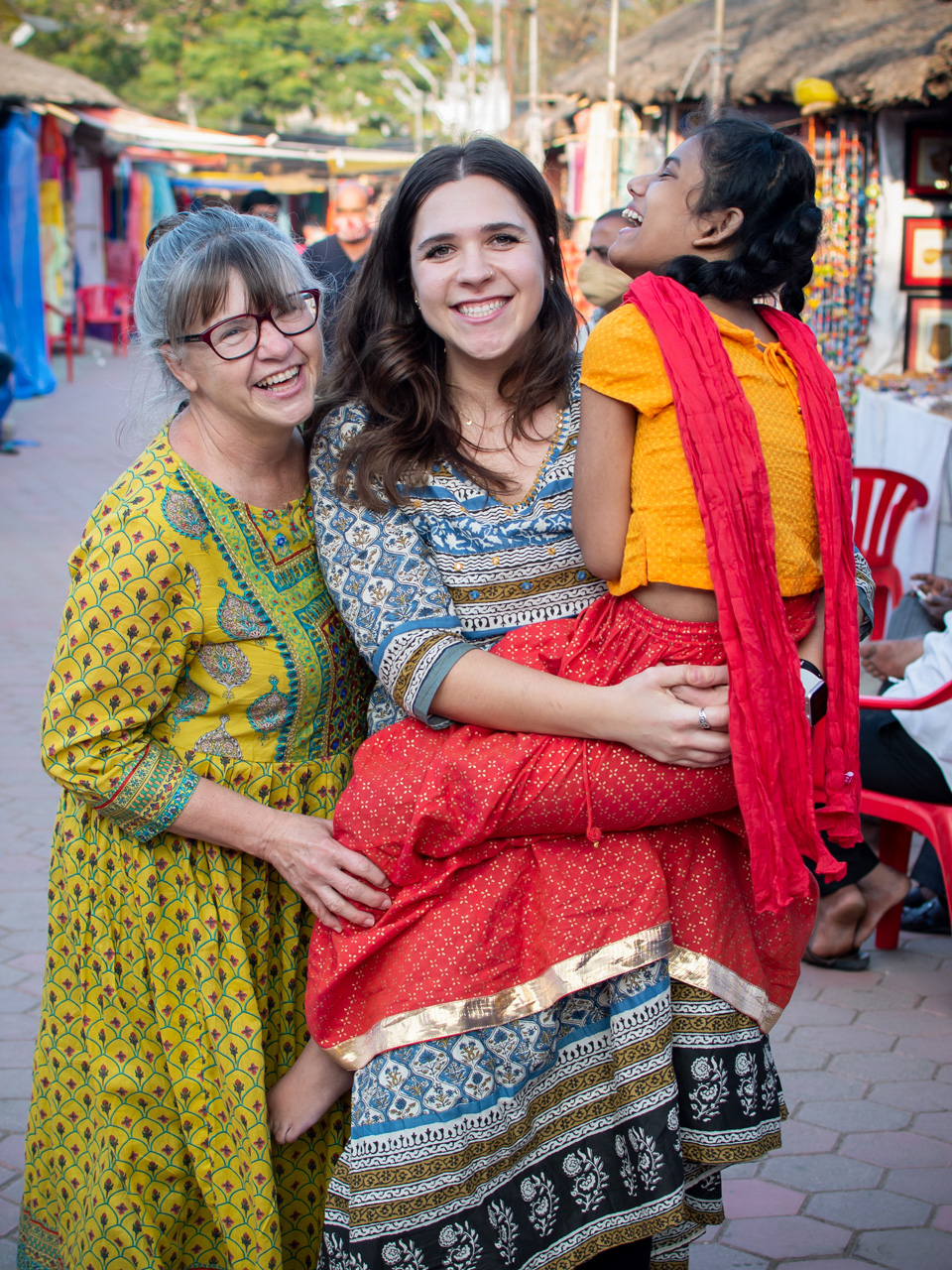 "I like to imagine myself in a situation before I'm actually in it," Aaron described. "There were lots of guesses and it was still tough to imagine life like from a father's perspective. I really had no idea."
The unknown looked different for Katie. Her unknown looked like having to deal with the possibility of choosing adopting Chitti over marrying Aaron.
"I had to ask myself 'Do you feel like adopting Chitti is a call from God?,'" Katie described matter of fact. "I had to then consider that my calling may not be the same for Aaron. The possibility of Aaron no longer being in my life...that I might have to choose to follow God. I never questioned the actual decision to adopt Chitti, just all the unknowns that followed."
Three weeks later, Aaron was at the airport picking them up. Aaron felt a connection to Chitty quickly and the desire to protect and care for her came naturally.
"Chitti is very sweet, full of cuddles, and gets along with people easily," Aaron shared. "She is very easy to love."
The first few months were full of adjustments and most of March this year was at Children's Hospital inpatient with Chitti. Chitti has a drug resistant form of epilepsy which they did not know. One night Aaron had to drive Katie and Chitti to the hospital and only Katie could go in. This left Aaron feeling restless and out of sorts. Aaron began to cry in the car because he felt so helpless.
"When I took them to the ER that night, they were the worst seizures ever," Aaron described. "It was startling and scary and I remember waiting outside and finally going back to my house and being in bed and being scared for Chitti's well-being. Not knowing what was wrong and feeling a big level of concern. Realizing I was that concerned made me aware of my love for Chitti."
One month later, Aaron made the decision. He and Katie and Chitti would do things as a family. There will be hard times and a lot of energy will be needed to care for her, but the three of them could still have a life together. They would be as a family who trusts in God. God is sovereign and He has the pieces figured out. This past September, Aaron asked Katie to be his wife and Chitti to be his daughter. Their wedding is in a few months.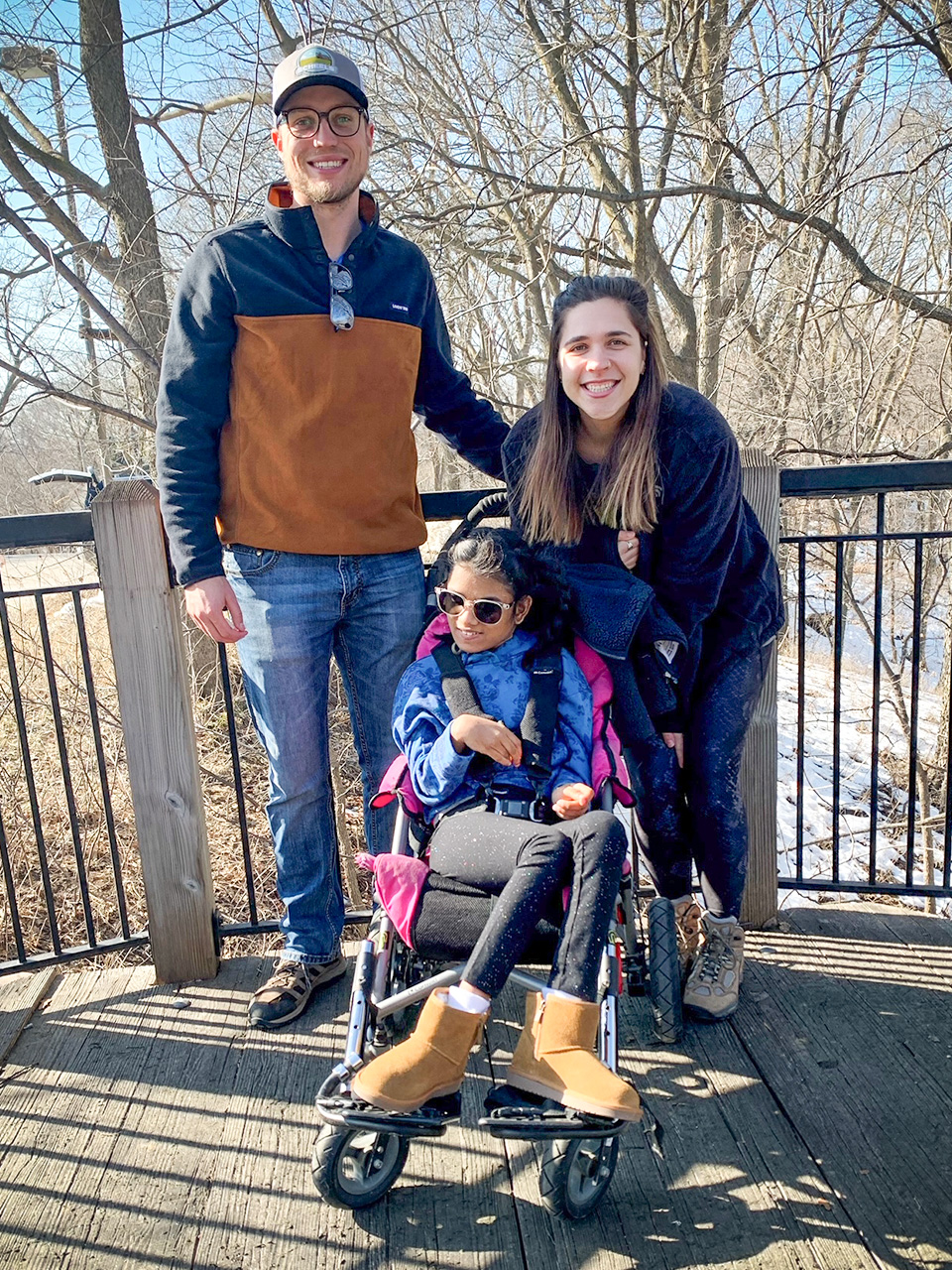 Having time to look back, Aaron would also agree that God was preparing him for this moment with Katie and Chitti. His strengths in life are different then Katie's strengths creating wider possibilities as a couple. Becoming a math teacher at a middle school these past five years has created perseverance and patience. Two qualities that are needed with caregiving. God has also revealed to Aaron help in the perfect times.
"You know, I didn't intend to do this...to be a father to someone like Chitti and at the same moment I marry my spouse," confessed Aaron. "Getting to know Chitti has also given me a deep understanding of a deeper love. I understand a bit more the adoption as a son of God. Even though she is not a part of my body, she is my daughter. Going through this has made me think everyone should adopt."
Today, as Katie and Aaron prepare for their wedding, they celebrate and give thanks for the Father's love pouring out on their family. Chitti's seizures are more controlled now. Doctors were able to find the correct medicine for Chitti so she's not as drowsy. Chitti is also now a U.S. citizen with the adoption being legal and finalized. God's plan is always perfect and He continues to reveal it to Katie and Aaron.
"The biggest thing we want people to know through our story," Katie declared, "is this amazing story of adoption and to know that adoption is an option. Please prayerfully consider some kind of adoption as there is a tremendous need locally and worldwide. Ask God if this is something for you."

Katie continued that she and Aaron 'are normal people and that we have no training. We are not special people. It just takes time and commitment but people have that through Christ already.'
Chitti is a special person made in God's image and Katie saw that early on. God's plan is always perfect and it has always included Chitti. She gives so much joy and love to Katie and Aaron and to everyone around her including the people that sit around her at church on Sunday morning. Chitti worships with all of her heart, and soul, and might. All she needs is a tambourine.