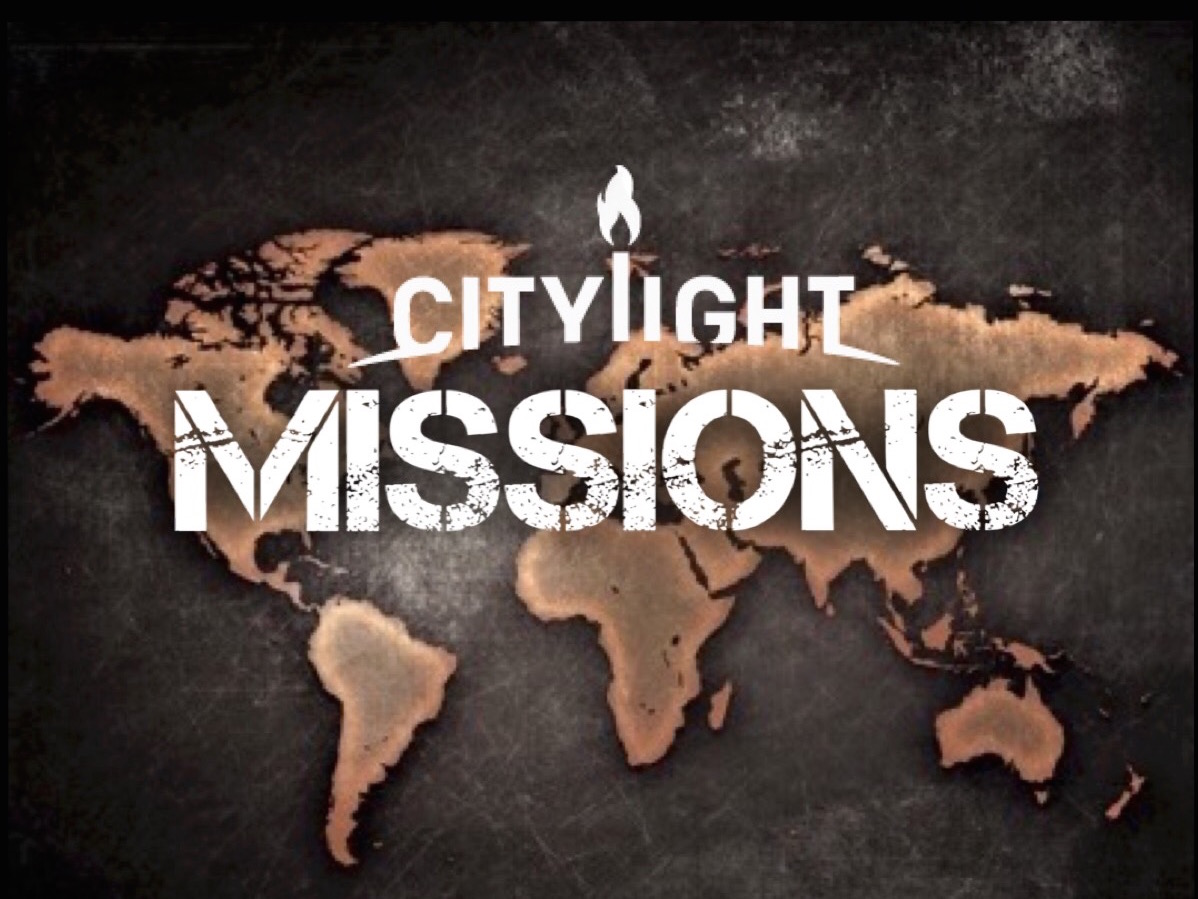 God's heart beats for people all around the world.  Early in the Bible, in Genesis 12:1-3, we see that God wants to bless all nations, not just one.  Later, in the small little book of Habakkuk, God promises that the whole earth will be filled with the knowledge of His glory just like the waters cover the sea (Habakkuk 2:14).  The whole earth will know just how glorious God is!  And in the last book of the Bible, we learn that people from every tribe, tongue, and nation will worship Jesus for his sacrifice for our sins (Revelation 7:9-10).  From beginning to end, God is pursuing peoples, not just people.  He is pursuing nations, not just cities.
Citylight wants to get caught up in God's global heart.  We love planting churches locally, but we also know that God wants to work through us around the world.  How might we do that?  To get started, we are offering a few short-term mission trips, ways for you to get exposed to God's global heart.  Pray and ask God if he wants you to join us on one of these trips, or if he might want you to help send someone else on a trip.
We are happy for Citylight Midtown AND Citylight Benson AND Citylight Council Bluffs folks to be a part of these trips.  They are for ALL Citylight Churches.
2015 TEAM TRIPS WE ARE ANNOUNCING
We've got 8 trips to announce:
Team Guatemala.  July 20-30.  Cost is $1,300 for children age 3-17; $1,700 for adults.  I am excited about this trip!  It has awesome team leadership and is great for families!  Max team size is 12.
Team Haiti.  End of June or early July for 10 days.  The final dates will vary based on team formation, but should be locked in soon.  Cost is $1,750 per person, adults only.  Tyler Shaheen is leading this team.  A powerful experience working with a faithful ministry in north Haiti.  Max team size is 10.
Team Jamaica.  (Added in January.)  Cost is $1,400 per person.  July 30 – August 6.  Partnering with City of Refuge Children's Home in Content Gap, Jamaica.  Dave and Robin Laney are leading the trip.  Max team size is 12.
Team Rwanda #1.  March 31-April 8.  Cost is $3,100-$3,500 (varies based on final airfare costs).  Adults only.  We are partnering with Imana Kids to love and serve orphans in Rwanda.  Imana Kids has been taking trips to Rwanda for years, and they will serve as the admin for this trip.  Their leaders, Ryan and Kara Higgins, are part of our church!
Team Rwanda #2.  July 14-23.  Cost is $3,100-$3,500 (varies based on final airfare costs).  Ages 9+.  Also a partnership with Imana Kids.
Team El Salvador. March 5-13.  Cost is $2,400.  An awesome medical mission trip led by Todd Johnson and partnering with Global Health Organization.  Physicians, nurses, pharmacists, pastors, med students, med families, and more are all welcome.  Global Health Organization will serve as the admin for this trip.
Citylight U Team Thailand.  Approximately June 1-30.  Cost TBD.  College students will spend about one month partnering with global church planters in Thailand.  The Christian and Missionary Alliance will serve as the admin for this trip.
Citylight U Team South Africa.  Dates and cost TBD.  They are going back to BEAM in South Africa.  It was an amazing trip last year, and they will head back again.
APPLICATION AND FUNDRAISING
Team Guatemala, Haiti, Jamaica, Thailand, and South Africa will use Citylight's team application.  The application is attached if you want to already print and fill one out.  This is a way for both you and us to measure your commitment to going on the trip.  It allows you to pray through costs, necessary preparation, and make the commitment fully.  All Citylight Team Trip application are due no later than February 14.  But team sizes are limited and teams will be built on a first-come, first-serve basis.
Team Rwanda and El Salvador will handle their own applications and administrative processes.  You can here more about their deadlines by emailing amanda@citylightomaha.org.
For the glory of God in ALL peoples!
doug