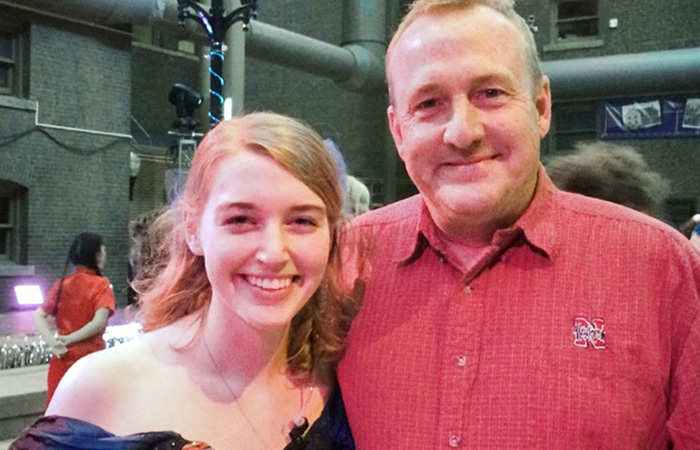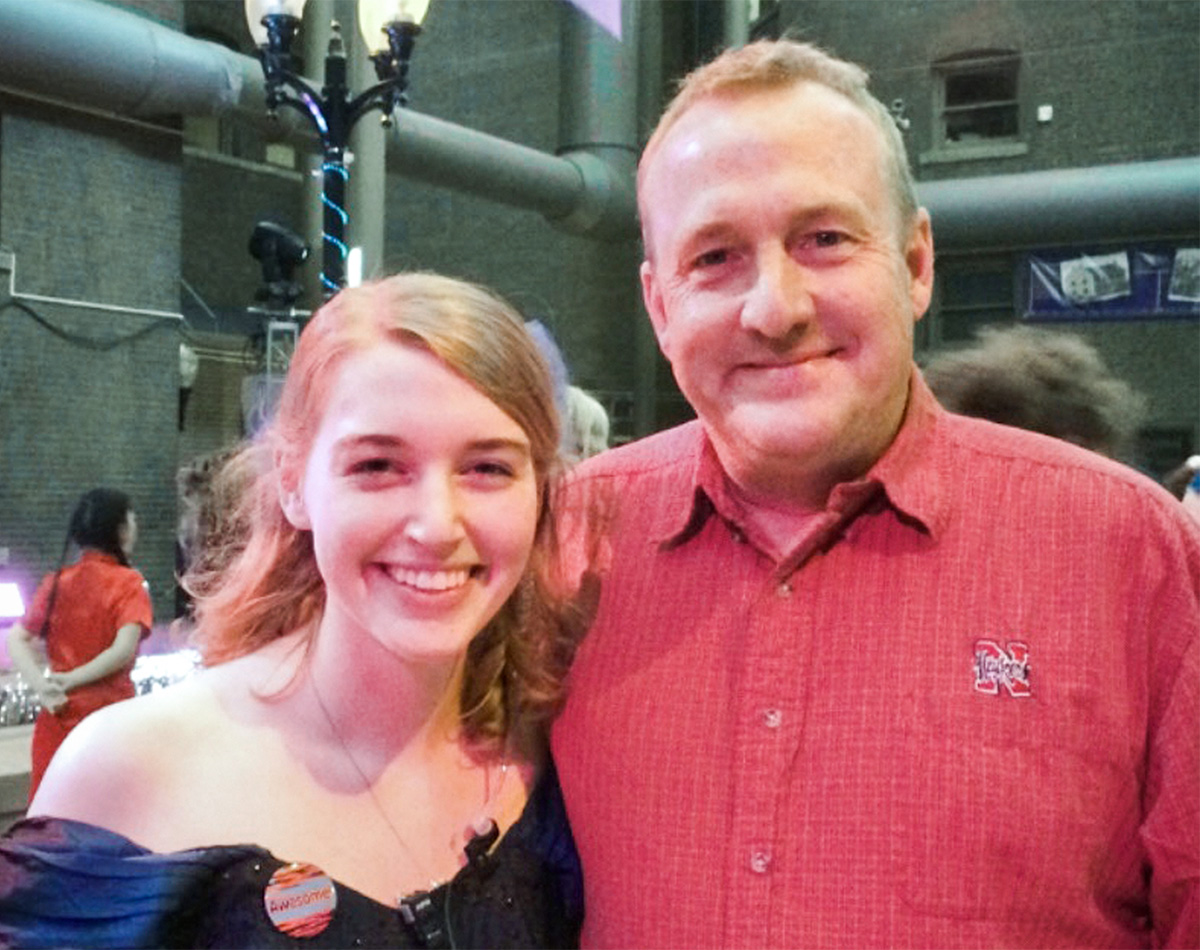 Last December, Julie Christensen felt like she was knocked off of her feet. Unexpectedly, on the five-year anniversary of her dad's passing, a wave of grief and sorrow consumed her and it felt relentless. She couldn't handle all the memories and the reality of her dad being gone forever.
When Julie was 18, her wonderful and loving family changed drastically in just one morning. She knew when the phone rang and the look on her mom's face that her dad had died. But no one spoke the words. No one confirmed vocally to her that her father died of a heart attack while on his annual hunting trip with friends. That the funniest and most amazing man in her life would never tell a joke to her again, walk her down the aisle and dance with her at her wedding, nor be there to take his future grandkids on fishing trips.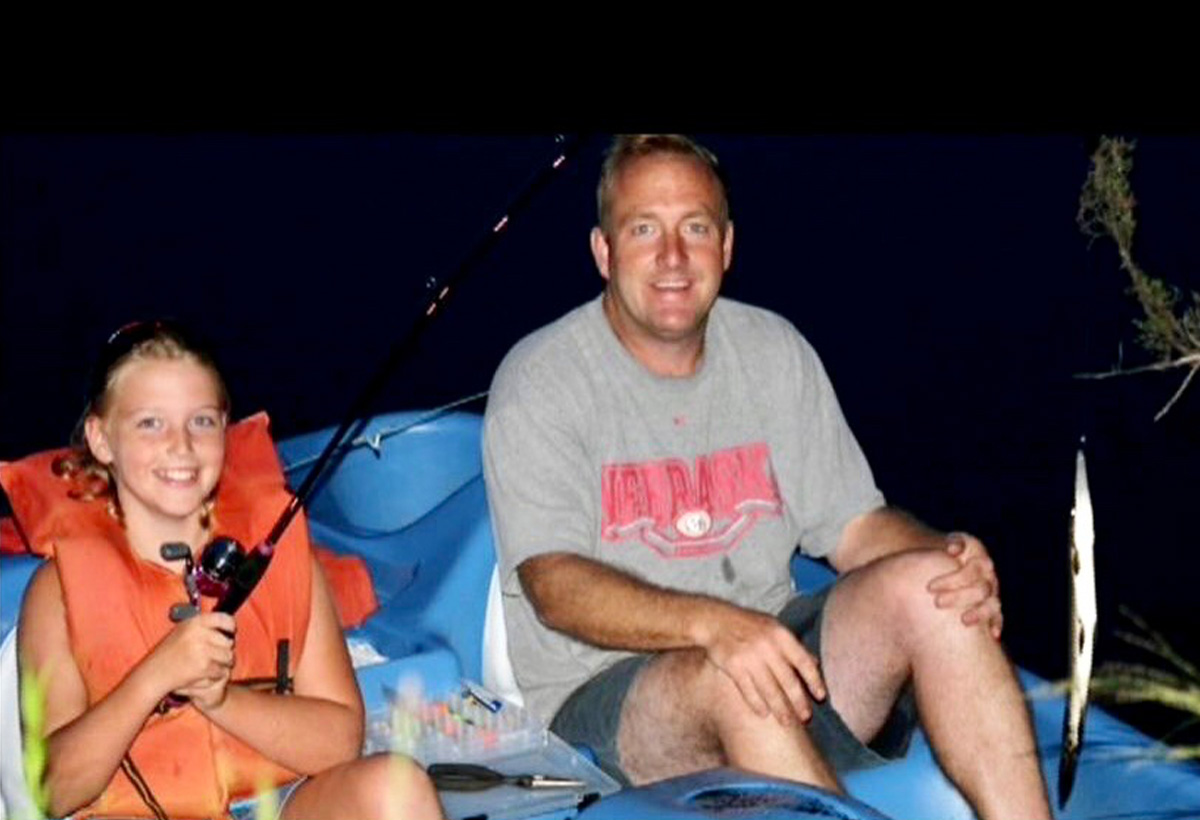 "They didn't say the words," Julie began to describe that day. "So, I sat there for a few minutes, my cousin hugged me, and then the chore of calling people immediately began. Here I was calling all these people and telling them about my dad having died. Yet, I really wanted to hear the words for myself. I didn't know what to do. A few days later, as a family, we got to go and see his body. That was when it became a reality for me. It's like I had 'maybe moments'... 'Maybe he'll come back,' 'maybe he's just sick' or 'maybe he's still in the hospital.' I knew that wasn't true, but your brain does weird things."
When she would recall that awful day in the past, all the memories, the amount of pain would vary. However, five years was a big anniversary for her, and the grief felt more overwhelming than it had since that first year. Grief is complex and multi-faceted. Julie was finding out it can hit at random and odd times, and is quite unpredictable.
"I went to counseling and I began to understand that I did process my grief back then," Julie described eagerly, "however, you will always feel grief and it's something you can learn how to deal with better as time goes on. Grief to me is like a box with a button and a ball inside of it. The button is the grief button, when you first experience grief the ball is as big as the box and constantly pressing on the button. As time goes on, the ball gets smaller and bounces around more, only hitting the button occasionally instead. But when the ball does hit the button, it still has the same power it did when the ball was as big as the box, the button just isn't hit as frequently. You get coping mechanisms to help when the button is hit, but really, you need understanding when the button is getting hit and why. I wanted to know 'why.'"
Julie heard about GriefShare five years ago through her mom. She attended meetings very sporadically and didn't didn't remember much. While attending counseling last December, Julie's counselor asked her if she was in a place to help others with their grief, and if so, would she be willing to help lead a GriefShare group. Julie felt as though God gave her the tools and the testimony to serve at the Church in this specific ministry, and signed up to help.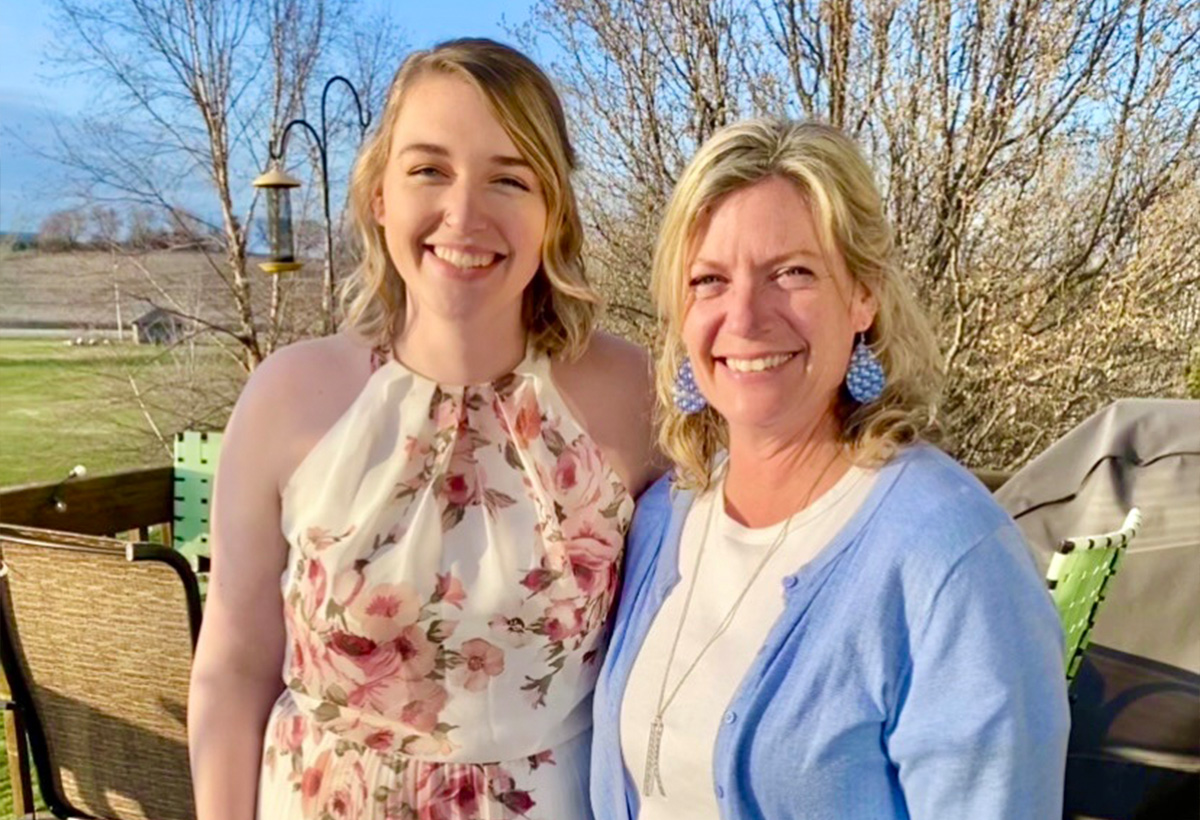 "In my grief, I was able to help people with their grief," Julie said, beaming with hope. "It was a nice silver lining. What was the worst thing at 18, now is used for God's glory. God doesn't let the bad things happen so that we see His glory, bad things happen and then God uses them for the advancement of the Kingdom. God turns our worst experiences into testimonies we can share with others to point to Jesus, I'm only one example of this!"
2 Corinthians 4:7,10 says 'But we have this treasure in jars of clay to show that this all-surpassing power is from God and not from us… We always carry around in our body the death of Jesus, so that the life of Jesus may also be revealed in our body.'
Julie loves this verse because it has shown her that through her cracks, Jesus' light shines brighter. Even though sometimes she feels broken and worthless, God uses her for His glory, she just has to let the light shine. Helping people process their own grief helped her process her own, and it also gave her a sense of purpose. God can use anyone's experiences for His good, what a blessing that is.
"It was very interesting going through GriefShare all the way through and helping with others in their grief," Julie explained with gratitude. "I never did that. It had been five years and I had forgotten the immediate grief. It made me more empathetic, and I began to relate to others better. People in their grief just need a listening ear and to know they are not alone, and that this isn't the end of their world."
Going through GriefShare and helping lead a small group also showed Julie in a very tangible way that God is a caring God.
"GriefShare is this safe space you can come and just be," Julie said with no hesitation. "Life does go on and the people at GriefShare are here to help you. To take a breath. To really think about your person. You can get so caught up in your life and the decisions you have to make and with the whole family. GriefShare is for you to take a break from that. You get to take the time to think about your loved one and what they mean to you and what this new normal looks like for you. To process through everything."
Also, GriefShare uses scripture and video instruction to remind participants of what God is doing in their life. There's a workbook that presents examples and lessons that point it all back to Him. For instance, in the Bible, there are many stories of people crying out to God. In Job, God was with Job but didn't solve Job's problems. He showed Job that He was always there and that He cared about what he was going through. Scripture shows us David constantly crying out in the Psalms. The Bible also shows over and over people lamenting. In it all, God has always been there, and He cares no matter what.
"God wants more for us," Julie spoke softly. "He wants eternity with Him. Before we get there however, there is a whole world to get through. God placed these people in our lives with beautiful relationships and they are taken away because of the world. We loved that person and that shows God's love. God sent his Son knowing the grief. God went through grief. He turned away from Jesus on the cross. And there are many instances where Jesus wept. We are not alone in our emotions."
Emotions can be a beautiful thing. We love people and that love is a beautiful thing. And through God, we have the hope to see these people we love in heaven. Emotions are also difficult, including grief. Crying out to God by focusing on God, or lamenting, is Biblical. Julie described it like this,
"It's not complaining. Instead, it's like saying 'I'm going to give you this hurting thing and seek you Lord, and your answers during this time." There's beauty in lamenting. And I understand it's easy to say that five years out, but God does work all things for His good."
Having experienced loss and walking through and in grief as a teenager has also given Julie a unique perspective that she now wants to use to help others. Her heart especially leans toward the teenager who has lost a parent or loved one. Julie offers encouragement and an invitation to anyone who has a loved one experiencing loss with these words,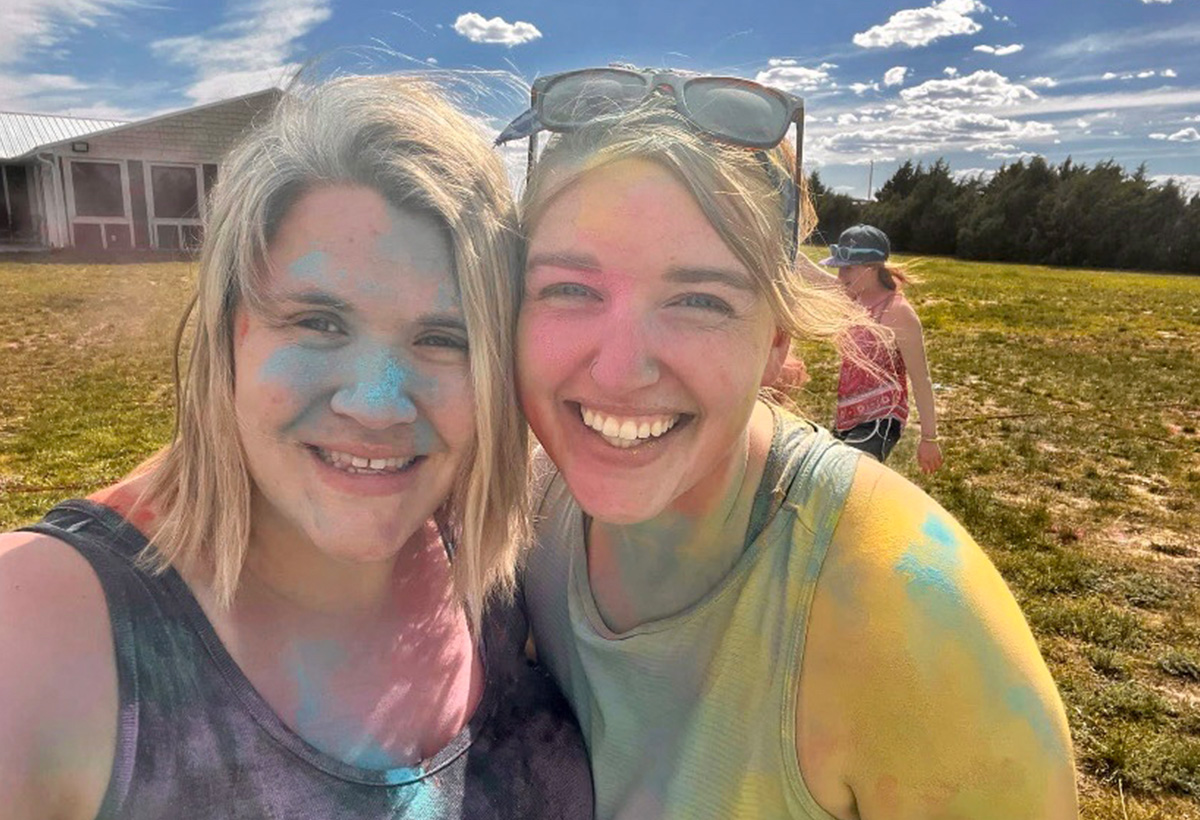 "Grief is hard but it's not scary, all you have to do is sit in it with them, listen and cry with them. Being their friend is the best thing to give."
For people who are going through grief themselves, don't do it alone. It's important to sit and talk with people about what you are going through.
"At GriefShare, you are discussing with people who understand you," Julie shared. "Your grief will not go away, but there is so much healing when you process and think about it. I have found if you want to get to the life that God has planned for you, you must think about and process through those events of loss, and prayerfully come before God and with people. It may feel like your life has ended but there will be a new normal. That new normal includes dealing with grief. Your life doesn't end because your loved one is not there. Your loved one doesn't want your life to end because they are not there anymore. Consider this: joy and grief are not mutually exclusive. You can have joy during grief. God gives us joy. You have His endless joy that surpasses all understanding. You have hope and the promise of everlasting life through Jesus and His promises in His word. There's always hope. It does leave room for the sadness. Jesus felt that too."
Processing can be difficult and scary but counseling or GriefShare or another kind of safe space can help tremendously. Being in a community and a sharing community helps slow down in a world that doesn't slow down. Leaning on people is a good thing and is not a sign of weakness. God has built us for community especially during hard times. Allowing people to help you carry your burdens is a healthy part of community (Galatians 6:2). If you are going through grief, let others support you. Some day you may support and serve these people by helping to carry their burdens.
Losing her dad unexpectedly at the age of 18 was not part of Julie's plan and it wasn't part of God's plan for creation either. However, He has never left us nor has He forsaken us (Hebrews 13:5). God has never left Julie's side either. Jesus said, "I will be with you always" and through His Spirit, His Church, and the promise of His Kingdom, He has tangibly given evidence of this to Julie. God has provided an abundance of love and support through her family, her church and friends, and community with GriefShare.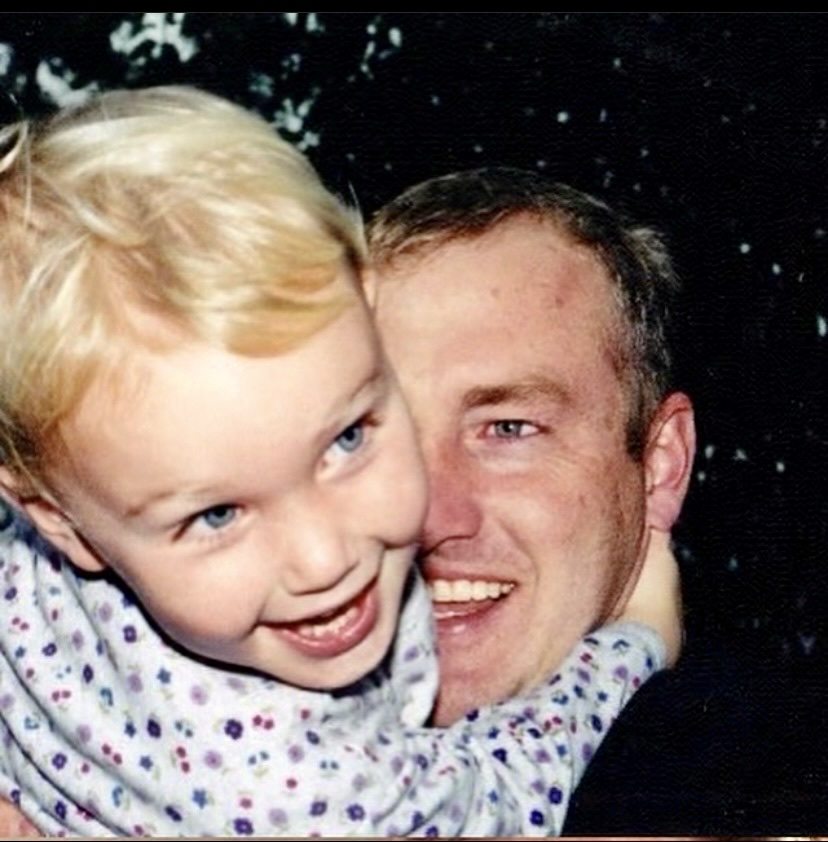 ____________________________
Julie and the rest of the GriefShare leadership team would like to invite you to come process your grief. This 13-week group begins August 14th, and meets Sunday afternoons from 4-6 pm at Citylight West (3401 Oak View Drive, Omaha, NE). Cost is $20 and covers the workbook, which is a key component of the group. You can register by visiting here: https://citylight.churchcenter.com/registrations/events/1347301
Additionally, if you have a grief story of your own and desire to walk alongside others in their grief and have reached a point in your journey where you are able - we invite you to join the GriefShare leadership team as a facilitator. GriefShare facilitators are there to be guides, great question askers, and instruments of comfort for those grieving the death of a loved one, spouse, or friend. No teaching required! We have a one-day training coming up in just a couple weeks. If interested, please contact Director of Care, Ben Hamilton, at ben@citylightomaha.org.