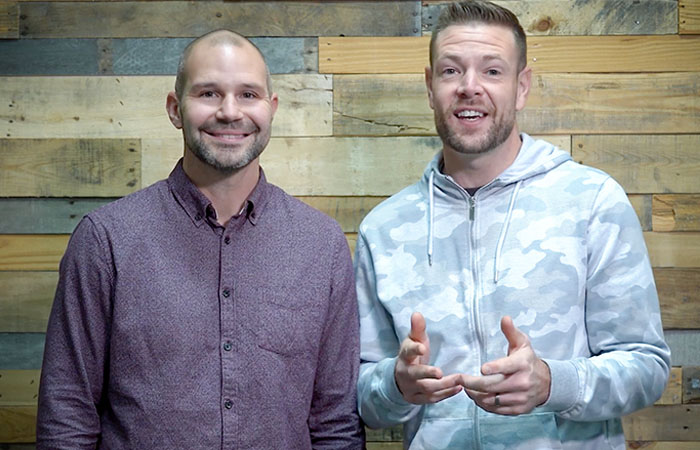 Three of our upcoming Citylight Family church plants: Citylight Fort Collins, Citylight Bennington, and Citylight Mosaic (formerly Español) will be planting in partnership with the Southern Baptist denomination. Checkout the video below to learn more about the Citylight Family of Churches and this exciting collaboration.
Transcript
Gavin: Gavin and Chris here. In 2013, we heard the call of God to plant a very specific church with a very specific kind of mission, and that mission was to be a church that multiplies both disciples and churches. And Citylight Church was born.
Chris: That's right, and by God's grace that mission has been incredibly fruitful. We've seen Jesus at work, disciples have been made and multiplied, and as of today almost a thousand people have gotten baptized.
Gavin: That's right. Additionally, churches have planted churches, and that one little church has become eight churches that meet in ten different locations across three different states. We've got four new churches that will be planted this next year.
Chris: We refer to this rapidly-growing community of churches as the Citylight Family of Churches, and this family of churches is working together, praying together, laboring together to multiply even more disciples and multiply even more churches, all for the glory and the fame of Jesus Christ.
Gavin: That's right, and aside from our shared connectedness and mission, we really have four key distinctives that define a Citylight Church in the Citylight Family.
Chris: First, a Citylight Church is Gospel-centered. Tim Keller says the gospel is not just the ABC's of the Christian life, it's the A to Z of the Christian life. We believe that Jesus Christ and the centrality of the Gospel is there to help save sinners but also to bring sanctification in the life of believers. And that's why at a Citylight Church, Jesus Christ is going to be the point of every sermon, out of every text, and every study we do. We want to make sure that Jesus is the hero always.
Gavin: Second, a Citylight Church practices two primary rhythms: gathering and scattering. We believe The Church is a people, not a place, and as a people we gather on Sunday mornings to sit under the expository preaching of the Bible, to sing songs to Jesus, to practice the sacraments. And then during the week we scatter into missional communities that we call City Groups. We try to minimize having a ton of programs and focus on making disciples in community on mission in our city.
Chris: Third, a Citylight Church is led by team leadership. A Citylight Church isn't led by one leader or one personality. It's led in the context of team leadership throughout all of its structures. One expression of this value is that each Citylight Church will have co-lead pastors. They'll have different giftings, but they'll serve in the same capacity. These co-lead pastors will also serve around a plurality of elders and in submission to a group of lay leaders.
Gavin: Finally, a Citylight Church is committed to church planting. Citylight churches are committed to multiplying themselves out of faithfulness to the Great Commission. We plant churches not out of convenience or an abundance of resources, but because God has called every church to multiply.
Chris: With these four distinctives and values uniting us as a family of churches, we've been gathering and dreaming about how God could use this little family of churches in greater ways to take the Gospel across the Midwest. We've got some exciting updates to share with you guys coming this Spring, but we wanted to pause and give you a little bit of an update. We wanted to share about three of the upcoming church plants that
will be happening in 2020.
Gavin: That's right, Chris. Citylight Fort Collins, Citylight Bennington, and Citylight Mosaic, formerly known as Citylight Español, have all prayerfully decided to plant their churches in co-operation with the Southern Baptist denomination. Now up until now, all eight of the Citylight Churches have been a part of the Christian and Missionary Alliance denomination. But these three churches have been drawn to the laser-focus of North American church planting, the thoughtful resourcing tools, and the robust support that they've found in the Baptist denomination.
Chris: We celebrate that each one of these autonomous churches has prayed into this decision, sought discernment, and come to the conclusion and picked the right denomination for them. We believe that being multi-denominational actually strengthens the Citylight Family. We want each one of these church plants to hold on to the four distinctives that make us a Citylight Family, while also allowing them the freedom to choose the right denomination that will be the right partner and help them go farther with their mission.
Gavin: And we celebrate that, we think it's wonderful. We are going to send these church planters out with blessing and resources and prayer. We want to spur them on as they continue the mission to multiply disciples and churches.
Chris: Citylight, we simply want to pause and say thank you. Thank you for all that you've done to make this church planting movement possible. We're praying that God would continue to build His Church.
Gavin: Amen!