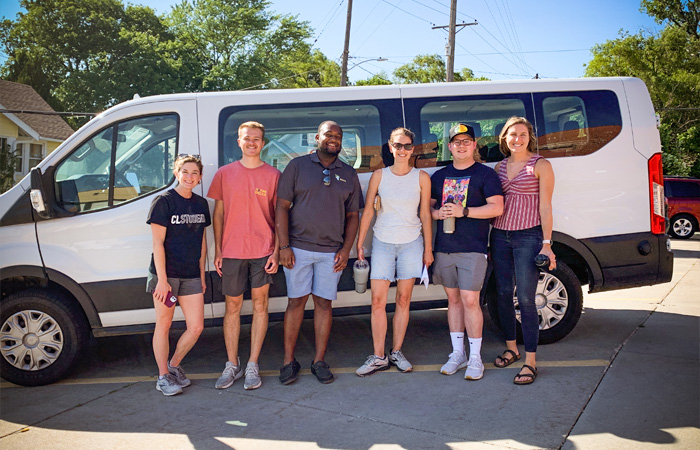 Most Wednesday nights at Midtown, you will find a lively bunch of first through fifth graders surrounded by a team of volunteers who serve, play, disciple, and love on these kids. This ministry is known as Club. Citylight Club's vision is to bridge gaps in Midtown's neighborhood between those who know Christ and those who don't by creating a space where meaningful relationships can be developed. Most kids do not live within walking distance and because of this, transportation is vital for both Club but also for Student Ministry. Recently, the need for another van became apparent and God's people stepped forward by donating another van. These vans, now three, have created within itself a smaller team, the 'Van Team.' The Van Team and its group of volunteers serve faithfully and most serve every week.
Two of the van drivers, Grant Goodrich and CJ Curry, serve every week and recently shared what God has revealed to them when serving and the impact it has had on their personal faith story.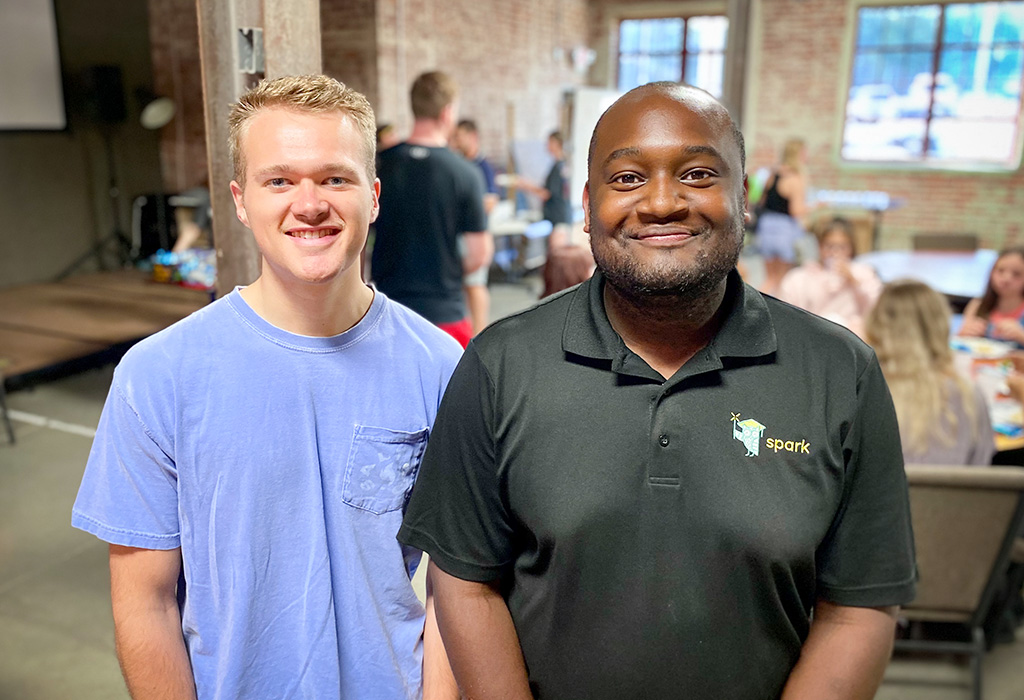 "Serving in Club and in Student Ministry started out for me as a good way to get involved with the church and to give back," Grant described why he jumped on the Van Team. "I don't want to be a consumer. Now that I have built relationships with the kids it's all about and for the kids. It doesn't feel like another thing I have to do and now I get to hang out with the kids that I've built relationships with."
Grant realizes that while he's driving or when he is in the back of the van with the kids, many opportunities for conversations take place.
"The kids are hungry for community and have so many good things to say and getting to hear about their day and their lives has been so cool."
God has revealed that no matter where you live or your age, these kids love sharing and want to share it and Grant thanks God that he gets to be a part of it. Grant described,
"It's like the verse in 1 John 4:10-11. It says 'And love consists in this: not that we loved God, but that He loved us and sent His Son as the atoning sacrifice for our sins. Beloved, if God so loved us, we also ought to love one another.' This is the Gospel and it's like so now that you have been loved you go and love. Serving in the church, no matter what you are doing whether that's serving coffee or being a greeter or driving a van, it's all loving people and the church."

"Serving the church is loving and experiencing this love," Grant concluded with a huge smile on his face.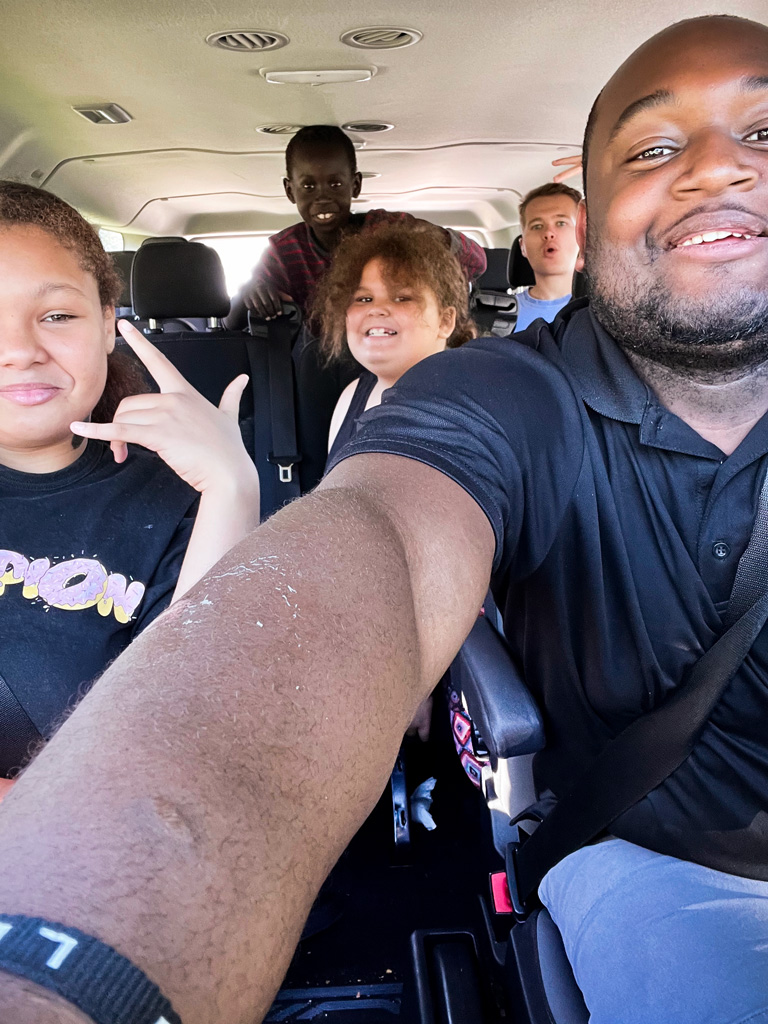 CJ agrees with Grant and puts it this way,
"It makes me feel honored to be able to serve God and His Kingdom by driving the van. God was calling me to serve and to use my strengths with driving for ministries."
CJ started driving the van for Students earlier this year and now for Club recently and reveals,
"I've been driving the van for about five months now and it's been great. You wouldn't think driving a van for a couple of hours on a Sunday or a Wednesday would bring you so much joy. To be able to speak into the lives of kids and build them up as you are driving has been a great opportunity and ministry to be a part of."
Throughout serving, God has revealed to CJ opportunities for patience. Sometimes it can be a challenge to drive a van full of middle schoolers. He explains,
"God has shown me you never know where someone is coming from. These kids live in places where they have not heard the Gospel or have a consistent male figure in their life. God has also shown me that being present is a good thing."
The new van has been an extra blessing not just for the serving team, but for the kids too. CJ described the first time he drove the van to pick up the kids:
"It was the first week we drove it and we were driving it out to Fremont for the student retreat. One of the girls saw the new van when we pulled up to her building and she was like super excited and her eyes got really wide. I'll never forget her natural reaction of this blessing of a new van. It's been something the ministry and church has needed for a long time. She was excited to sit in a new van. It made me feel good to see that reaction and that something small made such a big impact on one of the students and I got to be a part of that!"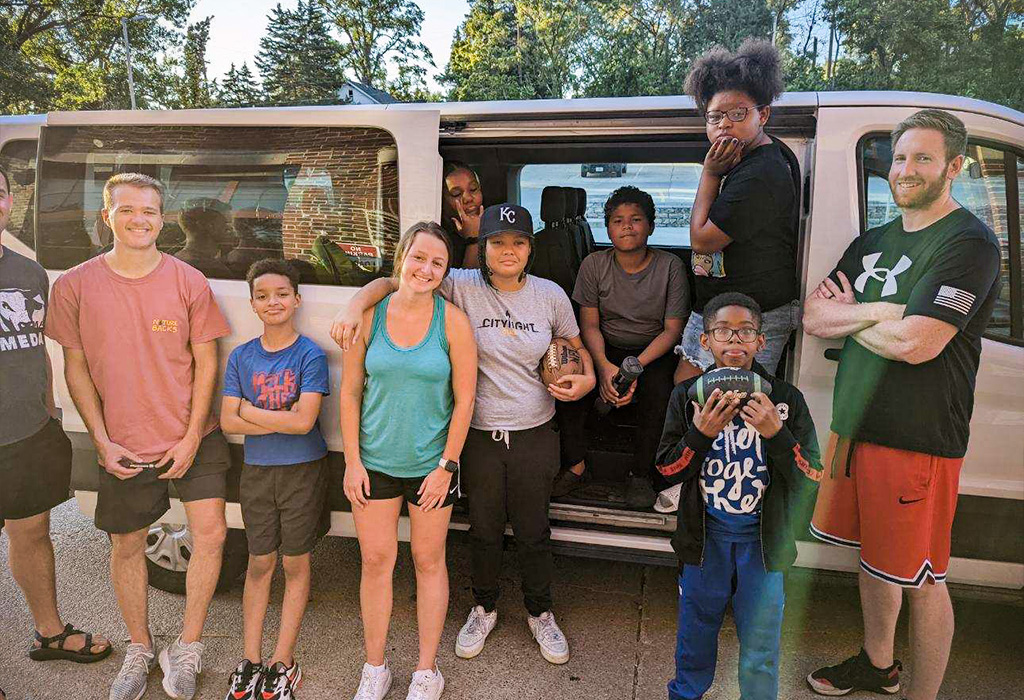 Three vans, a handful of drivers, a team of leaders and volunteers, loads of kids, and the Gospel of Jesus Christ have all created a family on Wednesdays. This family has been brought together by a loving and merciful God for His Kingdom so that they can gather for dinner, hear the Gospel, share about life and Jesus in smaller groups, and have tons of fun with one another. Thank you, Jesus, for saving us and thank you Citylight Omaha for serving, giving generously, and for pointing our neighbors to the community of God and to His saving grace.